Most of the talk leading up to Free State High's homecoming game centered on stopping Shawnee Mission East quarterback John Schrock from carving up the secondary with his arm.
Photo Gallery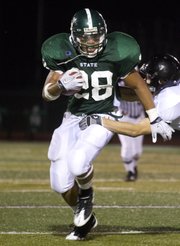 Free State football vs. Shawnee Mission East
Schrock indeed did some damage through the air, but the Lancers were more effective on the ground, which came as a bit of a surprise to the Firebirds.
"I thought we'd stuff the run pretty much, but I think we all kind of were focused on the pass," senior quarterback Dylan Perry said. "We knew they could run, but we just kind of overlooked it, and that's what hurt us."
Using a rushing attack that featured a combination of size and quickness, and some big pass plays, too, SM East downed Free State, 28-21, on Friday night.
"They're a better team than us right now, and the reason is, when they needed to make plays to win the game, they did, and we did not," Free State coach Bob Lisher said.
The Firebirds (3-2) had made a habit of manhandling opponents with a dominant running game so far this season.
But with senior running back Preston Schenck sidelined due to an ankle injury, Perry shouldered much of the offensive load for the Firebirds. He was more than up to the task, rushing for 176 yards and two touchdowns, and passing for 101 more.
On the other side, Schrock's arm was as advertised, as he completed 15 of 20 passes — including nine for 10 or more yards — for 169 yards, but East's rushing attack was the big difference.
The Lancers (4-1) rushed for 215 yards, by far the most the Firebirds have allowed this season.
Schrock, a 6-foot-4 between-the-tackles bruiser, rushed for 46 yards and two touchdowns, and 210-pound fullback Jeff Cole had two scores, but most of the damage came from junior Adam Lowe.
The 5-foot-8 junior gashed the Firebirds repeatedly for big gains, most of which came on the counter play — a misdirection play where the runner takes one step one way before taking the handoff and rushing to the opposite side. Lowe finished with 141 yards on 13 carries.
"The counter play is a play we read all the time, but for some reason, tonight we didn't," Lisher said.
East's massive offensive line, which featured Dylan and Jackson Brett — sons of Royals Hall of Famer George Brett — predominantly controlled the line of scrimmage, making it a tough night for Free State defensive linemen.
"Pretty much, the defensive line's job is to keep people off of our linebackers so they can make plays," senior nose tackle Justin McCandless said. "I don't know if we did that very well tonight. I feel like at times we were outhit and just didn't finish."
Though the Lancers controlled the ball for much of the first half, including an 18-play touchdown drive that spanned nearly 10 minutes, the Firebirds hung tough, and went into the locker room with a 7-6 lead.
But following the second-half kickoff, the Lancers ran a counter to Lowe on their first play from scrimmage.
Lowe carried off left tackle for a 60-yard gain, which set up Schrock's second touchdown and put SM East ahead, 14-7.
"When something happens like that, it kind of takes the wind out of your sails," Perry said.
The Lancers stuck with their ground-and-pound game plan behind a great push from their offensive line and carried a 21-7 lead to the fourth quarter.
"We didn't read the plays very well, but a lot of times we were there and just didn't make plays," senior linebacker Nate Davis said.
Perry opened the fourth with a dazzling 64-yard touchdown run, where he broke an initial tackle, spun out of a second and raced down the sideline behind his blocks for the score.
The Lancers scored again, aided by two Firebird penalties — including a questionable pass-interference call that negated a Tim Lewis interception — which somewhat forced the Firebirds' hand offensively.
"We were put in a situation in the second half where we had to throw the ball a little more than we would like to," Lisher said.
A five-yard run by senior Henry Vaeono helped Free State pull within a touchdown with around two minutes to play, but SM East recovered the onside kick.
One first down and two kneel-downs later, the game was over.
Though many Firebirds said they were disappointed, it doesn't appear they'll dwell too long on the setback.
"We've got to think about this one until about 10 o'clock tomorrow morning when we look it over on tape, then we've got to put it to bed and get ready for the next one," Lisher said.
Copyright 2018 The Lawrence Journal-World. All rights reserved. This material may not be published, broadcast, rewritten or redistributed. We strive to uphold our values for every story published.