Lawrence High senior Kendyll Severa and Free State High senior Reilly Moore are best friends.
Photo Gallery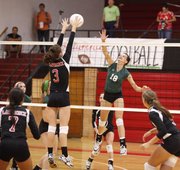 Lawrence High volleyball vs. Free State, Olathe East
They both play the same position in volleyball — libero.
But when the Lawrence High-Free State volleyball match rolls around every fall, their friendship falls a distant second to the rivalry.
Severa's team got the better of Moore's for the third year in a row when Lawrence defeated Free State, 2-1 (25-22, 22-25, 25-23), on Thursday at LHS.
"She'll probably hear about this for the rest of the year," a smiling Severa said.
Both teams defeated Olathe East earlier Thursday night — the Lions in two sets (25-21, 21-16) and the Firebirds in three (25-18, 22-25, 25-17). The final match wasn't just for bragging rights. It was to determine the winner of the triangular meet.
Lawrence opened the first set on a 10-1 run, silencing the Firebird faithful in the student section. Free State coach Nancy Hopkins said her team was a little nervous in front of the rowdy crowd.
"The first game, definitely, they played very tentative and kind of got in panic mode after about point five or six," Hopkins said.
The Firebirds, led by junior Meaghan Holmes' blocking in the middle, closed the gap to two points at 24-22, but Lawrence junior Kailey Wingert spiked home the set-winner.
The second set was Free State's turn to open on a run, this time 10-2. At 17-16, Holmes went down because of an apparent knee injury, but Free State still won the set 25-22.
Hopkins said Holmes' injury affected her team quite a bit.
"I really had to rearrange my lineup a lot," Hopkins said. "It changed everything."
The opening runs were apparently exhausted by the third set. Neither team led by more than three points until Lawrence at 21-17. The Lions had match point at 24-21, but Free State won the next two points. Severa spiked home the match-winner and sealed her opportunity to brag to Moore.
"That's all you can think about every single practice," Severa said. "Free State … we've just got to get them. And we did."
Lawrence High coach Stephanie Magnuson said she was more nervous than her players.
"I'm always nervous, but it's an intense nervous," Magnuson said. "I'm so proud of these kids, and they are working so hard. I want to see them succeed because they deserve it."
Asked to identify a couple players who stood out in her eyes, Magnuson glanced upward and thought about it.
"Everybody," Magnuson said. "I can't pick out a particular person tonight. They all had their shining moments. They did a great job."
Lawrence plays again Saturday at the Joan Wells Tournament in the LHS Main Gym starting at 9 a.m. Free State heads to the SM West triangular next Thursday.
Copyright 2018 The Lawrence Journal-World. All rights reserved. This material may not be published, broadcast, rewritten or redistributed. We strive to uphold our values for every story published.