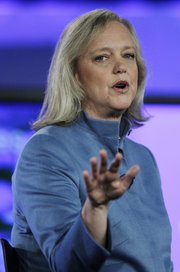 Santa Monica, Calif. — The attorney for Meg Whitman's former housekeeper released a copy Thursday of a purported 2003 letter that she says shows the Republican gubernatorial candidate knew all along that the maid might be an illegal immigrant.
The letter from the Social Security Administration has emerged as a potentially explosive document in the California governor's race between Whitman and Democrat Jerry Brown. Whitman has called for tougher sanctions against employers who hire illegal workers, and the fact that she had an illegal immigrant on her payroll for a number of years could undercut her credibility.
At issue is whether Whitman knew about the government letter in 2003, as attorney Gloria Allred and the former housekeeper have alleged. Whitman said she and her husband never saw the letter.
But Allred produced a copy of the letter Thursday that she says shows Whitman's husband, Dr. Griffith Harsh, partially filled it out. If true, that would mean Whitman and her husband were aware of the immigration problem years ago.
"At bottom of letter, Dr. Harsh has written: 'Nicky, please check this. Thanks,"' Allred said, adding that the housekeeper recognized the handwriting as belonging to Whitman's husband.
A message left with the Whitman campaign was not immediately returned. Harsh did not respond to questions from The Associated Press about whether he had seen the letter or whether the writing was his.
Whitman said earlier that she and her husband never got the letter, which noted a discrepancy in Diaz Santillan's Social Security number.
Whitman says they fired Diaz Santillan last year after she told them she was in the U.S. illegally.
She suggested that the housekeeper may have intercepted the letter, since she was in charge of the mail at the couple's Silicon Valley home.
For a second straight day, Whitman forcefully denied the allegations and called them a "political smear on me, on my family, and based on lies." She said her Democratic opponent, Jerry Brown, was behind the story and that the housekeeper was being manipulated for political gain.
When asked at a news conference whether the worker might have taken the letter intended for Whitman, she said "it's very possible." The housekeeper was in charge of going through the mail, she said.
"She might have been on the lookout for that letter," Whitman said. "It would pain me to believe that that's what she might have done but I have no other explanation."
Whitman said repeatedly that she and her husband were shocked when Diaz Santillan, their housekeeper of nine years, came to them and confessed she was in the U.S. illegally in June 2009, nearly five months after Whitman had announced an exploratory run for California governor. She said she immediately suspended her and later fired her.
The immigration flap has served as a major headache for Whitman in her tight race against Brown. They are in a dead heat according to the latest polls, despite Whitman having spent nearly $120 million of her fortune so far.
Copyright 2017 The Associated Press. All rights reserved. This material may not be published, broadcast, rewritten or redistributed. We strive to uphold our values for every story published.