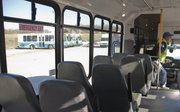 -->
The city's public transit service is set to unveil six new buses that are a full five feet shorter than the 30-foot buses the city has been using since the system began in 2001.
The shorter buses cost about $20,000 less per bus, but that's not the main reason city leaders said they decided shorter was better.
"Really, what it will do is provide us a lot more flexibility than we've ever had before," said Robert Nugent, the city's public transit administrator.
That greater flexibility may mean the city will start exploring new service options that go deeper into neighborhoods, something that has been tough to do with 30-foot buses.
Already, the city is testing a new flex-service system on Route 3, which goes between the Lakeview Industrial Park and downtown. During peak morning and early-evening hours the route functions like any other city transit route. But during midday, people along the route must call the city's transit office to schedule a ride. Instead of being required to go to a bus stop, riders can request that the bus come to them. That means city buses need to be able to navigate neighborhood obstacles such as cul-de-sacs and side streets lined with parked cars.
Nugent said having shorter buses will give the city the option of adding other flex-service routes in the future. The city previously had proposed adding a flex-service route in a portion of North Lawrence, but dropped the idea after some riders expressed concern.
Thus far, Nugent said he hasn't heard much feedback, negative or positive, about the new Route 3 flex-service.
"We still think it is going to work very well," Nugent said. "Usually it takes about six months to a year for people to figure out one of these systems and really use it to its full benefit."
The new buses are expected to start appearing on city streets later this week. Drivers currently are being trained on the new vehicles, and the final pieces of equipment are being installed.
In addition to being cheaper to purchase, the vehicles are expected to get better fuel mileage than the larger buses. But Nugent said he couldn't yet predict how much better. The new buses will operate on gasoline as opposed to diesel, and he said it will be interesting to see how efficiently they will idle. The buses also aren't expected to last as long as the larger vehicles. The smaller buses have a mileage life of about 200,000 miles, while the larger buses are rated for about 350,000 miles.
The purchase, which totaled $480,000, is one of several the city is making to replace its entire fleet of 12 transit buses. All the buses are 2002 models that have more than 360,000 miles. In mid-2011, the city is expected to take delivery on three 40-foot hybrid electric-diesel buses. Those buses will be used on newer routes that have become busier since the city has allowed Kansas University students to ride the buses without paying a city fare. In late 2011, the city will receive three 31-foot buses that will be used on several of the city's main routes.
Copyright 2018 The Lawrence Journal-World. All rights reserved. This material may not be published, broadcast, rewritten or redistributed. We strive to uphold our values for every story published.