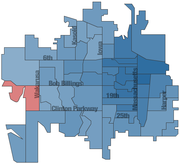 An interactive map showing how each precinct in Lawrence voted in the 2010 race for Kansas Treasurer.
Topeka — State Treasurer-elect Ron Estes has named his campaign manager and two former assistant state treasurers to his transition team.
Estes, a Republican, announced his three-person transition team Tuesday. It includes current Assistant State Treasurer Aaron Otto, who works for Dennis McKinney, the Democratic incumbent unseated by Estes in this year's election.
The other two members of the team are Estes campaign manager Derek Kreifels and former Assistant State Treasurer Jeff Wagaman. Wagaman worked for McKinney briefly after holding the job for six years under State Treasurer Lynn Jenkins, a Republican.
Estes takes office Jan. 10.
McKinney was appointed treasurer late in 2008 by then-Democratic Gov. Kathleen Sebelius, after Jenkins resigned to take a seat in Congress.
Estes is serving his second term as Sedgwick County treasurer.
Copyright 2018 The Associated Press. All rights reserved. This material may not be published, broadcast, rewritten or redistributed. We strive to uphold our values for every story published.