News and notes from around town:
• Motorists who use a portion of north Kasold Drive should prepare for a detour beginning Wednesday. The Southern Star Central Gas Pipeline plans to close Kasold Drive from Grand Vista Drive to West Peterson Road. The road is expected to be closed to traffic for two weeks while crews perform maintenance on a pipeline in the area. The city is recommending that motorists use Monterey Way to Grand Vista Drive as a detour.
• One of Lawrence's larger manufacturers soon may have a new owner. The New York Times is reporting that Del Monte is selling it operations to a buyout group led by the asset management firm Kohlberg Kravis Roberts & Co. Del Monte has a major plant in Lawrence at 727 N. Iowa that produces the Kibbles 'n Bits dog food brand for the company. The $5.3 billion deal calls for Del Monte shareholders to be paid $19 per share, about a 40 percent premium over what shares had been trading for prior to the announcement. The new ownership group also would assume about $1.3 billion in Del Monte debt. The deal is expected to close in March. No word yet on how the deal may impact Lawrence employees of Del Monte.
Past Event
When: Friday, December 3, 2010, 4 p.m. to 10 p.m.
Where: Johnny's Tavern West, 721 Wakarusa Drive, Lawrence
-->
-->
• A gathering of players and politicians will work to raise money to help area residents that have had their utilities turned off this winter season. The fifth annual Mayors & Players Turn it On! Utility Assistance Event will be from 4 p.m. to 10 p.m. Friday at Johnny's West, 721 Wakarusa. The event, spearheaded by longtime social service advocate Steve Ozark, will feature a drawing for two men's basketball tickets to any home game that the winner chooses. It also will have a number of silent auction items.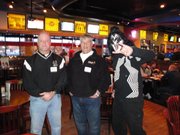 The fundraiser is scheduled to include Mayor Mike Amyx, former mayor and current state Sen. Marci Francisco and coaches from the LHS and Free State football, volleyball, cheerleading and wrestling squads. The politicians and coaches have a friendly competition to see who can sell the most chances for the tickets and other prizes.
All the money raised is used to turn on utilities in Douglas County households that have been shut off. Since 2006, the program has raised nearly $24,000 and has restored power to 105 households. The households are chosen by local social service providers such as ECKAN, the Salvation Army and Bert Nash. People who can't attend the event can send a donation in care of Trinity Lutheran Church, which handles financial matters for the group. The church's address is 1245 N.H., Lawrence, 66044. This year the group hopes to raise $5,000. Black Hills Energy has pledged $1,500 to the event.
What town talk have you heard? Send me a tip at clawhorn@ljworld.com.
Copyright 2018 The Lawrence Journal-World. All rights reserved. This material may not be published, broadcast, rewritten or redistributed. We strive to uphold our values for every story published.