Photo Gallery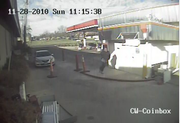 Collection of security camera images from the robbery of a Lawrence Zarco 66 on Sunday
Lawrence police asked for assistance late Monday afternoon in finding a suspect accused of robbing the Zarco 66 store at 1415 W. Sixth St.
Sgt. Matt Sarna, a Lawrence police spokesman, said the suspect entered the store at 10 a.m. Sunday and demanded money from the cash register while he displayed a handgun.
"The suspect obtained an undisclosed amount of cash and left the store southbound on foot," Sarna said.
Police described the suspect as a black male, 5-foot-6, with a medium build. He was wearing a black hooded sweatshirt and dark-colored jeans. Sarna said he also had a small amount of facial hair on his chin.
Police released surveillance video and photographs of the suspect from the store Monday afternoon.
"We stress it to businesses whether they are new or existing ones that they always have a working video system and something that we can use," Sarna said. "The best things you can get out there are pictures to the public to help us identify suspects."
The store's owner said it has the video surveillance equipment in place as one of its safety measures to guard against robberies. In addition to turning the video over to police, Zarco 66 owner Scott Zaremba said clerks have limited access to cash at the store.
Much of it is stored in safes they can't access, and he said the suspect on Sunday didn't get much money out of the robbery.
"Our big deal is making sure all of our people are safe," Zaremba said. "Once somebody tries that once, then they figure out there's no money there."
Sarna said anyone with information in the robbery case can call the police department at 785-832-7650 or Douglas County Crime Stoppers at 785-843-TIPS.
Sunday's armed robbery was the second one in recent days at a central Lawrence convenience store. On Thursday, a man robbed Presto Convenience Store, 602 W. Ninth St.
The Presto suspect is described as about a black man in his late 20s or early 30s who is 6 feet tall. He was wearing jeans and a hooded sweatshirt, and was bald with a scruffy beard. Sarna said Monday the descriptions of the suspects are similar but that officers could not say yet the two robberies were related.
Both are still under investigation.
Copyright 2018 The Lawrence Journal-World. All rights reserved. This material may not be published, broadcast, rewritten or redistributed. We strive to uphold our values for every story published.