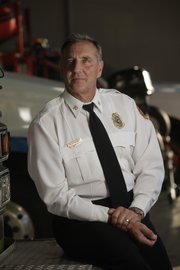 Public reception
When: 3 p.m. to 6 p.m. Dec. 9
Where: The Eldridge Extended, 201 W. Eighth St.
The only man to serve as the fire marshal for Lawrence Douglas County Fire and Medical since the position was created in 1985 will retire in December.
Division Chief Rich Barr said Monday he will end his tenure effective Dec. 18. 
Barr, who joined the department in 1977 as a firefighter, said he had been contemplating retirement for some time before deciding to make the move.
"He has worked his entire career in Lawrence, so that part is monumental to say the least," Chief Mark Bradford said.
Barr said his job changed considerably over more than two decades as Lawrence grew and the department become more involved in planning and code requirements of buildings for fire safety.
He has enjoyed being able to interact with the public and business community.
"With this particular job, I was blessed," he said.
Barr, who grew up in Hoxie, earned a bachelor's degree in 1975 from Kansas University. He moved to Ames, Iowa, to run a photography shop before returning to Lawrence in 1977 to work as a firefighter.
Bradford said Barr has become a valuable member of the department due to his long experience as fire marshal.
"He has been a great asset. He's been one of my mentors and somebody that I've looked up to in the fire service, especially here in Lawrence," Bradford said.
In Lawrence, Barr later became a captain and then was training officer until becoming fire marshal in 1985 when then-Chief Jim McSwain created the position. Barr also earned a master's degree in public administration in 1989.
The fire marshal is responsible for fire prevention initiatives, code inspections and enforcement and investigations into the cause of fires. He led a major initiative that took years to get greek houses on the KU campus to install fire sprinklers.
He said he worked in his career to be consistent, especially with enforcing fire codes, and also tried to be as responsive as possible when working with the public.
"There's always ups and downs," Barr said. "I always felt like somewhat of a failure whenever we had someone perish in a fire because my role was one that you hope that that didn't happen. You hope that what you did would prevent that from happening."
The two most recent high-profile fatal fires in Lawrence include the 2005 Boardwalk Apartments fire where three people died and the 2006 residential fire at 1205 N.J. that killed Charles Glover Sr., 66, and his four grandchildren.
There had been others in previous years, including a blaze in which the department lost its first firefighter in the line of duty. Mark Blair was killed in 1986 while fighting a fire at 3028 Rimrock Drive.
"I think our overall record is very good for a community our size, but those are the things that I remember a lot," said Barr, 57, who has no immediate plans once he retires from the department.
Bradford said Barr has always tried to learn from the more tragic incidents.
"It's imperative, I think, in his own mind that you continuously search out those things, and that's what makes him the professional he is," Bradford said.
James King, a captain, will be promoted to division chief and serve as fire marshal, the chief said. King has been working in recent weeks with Barr as part of the transition.
A public reception for Barr is scheduled for 3 p.m. to 6 p.m. Dec. 9 at The Eldridge Extended, 201 W. Eighth St.
Barr lives in rural Lawrence with his wife, Paula, a Quail Run School teacher, and two daughters, Lauren, who attends Lawrence High School, and Carrie, who goes to South Junior High.
Copyright 2018 The Lawrence Journal-World. All rights reserved. This material may not be published, broadcast, rewritten or redistributed. We strive to uphold our values for every story published.