-->
On the street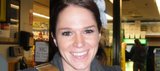 'Chopped.'
Photo Gallery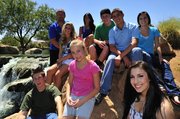 Bruce family on WEtv's 'Downsized'
Friends and acquaintances of Lawrence native Todd Bruce now can find him on their television sets every Saturday night as the star of a new reality television program.
But it wouldn't quite be right to say that Bruce has made it big. Not when his construction business has gone broke, his family has declared bankruptcy and their home and condo have been foreclosed.
But it might be right to say that Bruce is the emerging face of a new type of American story.
"Our story isn't the typical one where you go from rags to riches," Bruce said. "It is one where you go from riches to rags and hopefully back to riches again."
Bruce, a 40-year old who was born and raised in Lawrence and lived here until 2000, is the star of "Downsized," a new reality television program on the WEtv network. The show profiles how Bruce, his wife and their seven kids are working to climb back to financial respectability after his Phoenix-area construction business went belly-up during the recession.
"We submitted our information to a (TV) production website basically as a joke," said Bruce, who is a Lawrence High School graduate and worked as an aircraft technician in Kansas City before moving to the Phoenix area. "We thought we were interesting enough to be on TV, but we didn't think it would go very far."
Four of the eight episodes already have run on the network — which shows new episodes at 8 p.m. Saturdays — and the family is getting national attention. The family has appeared on "The Rachael Ray Show," CNN and the "CBS Early Show," among others.

At least a pair of Lawrence residents have taken notice. Bruce's parents, Howard and Mary Jo Bruce, still live in Lawrence, as does his grown son, Cody Bruce, who was not on the show.

"He lost everything out there in that economy," said Mary Jo Bruce. "It is definitely a very true story. It has been kind of tough to watch because it reminds you of everything they've gone through, but it also is always good to see your kids."
Bruce said agreeing to do the show involved mixed emotions. He said all seven of the children — two from Bruce's previous marriage and five from his wife's previous marriage — wanted to do the show. Eventually, he and his wife, Laura, agreed as well.
"We felt like we could do this if the story was told the right way," Bruce said. "I hope viewers take away a smile and some hope from the show."
Thus far, Bruce said he's been pleased with the results.
"Overall, I feel like we have touched lives," Bruce said. "We get e-mails almost on a daily basis from people telling us they have gone through the same thing."
Bruce, though, said the family has also received some negative mail. That may be for the same reasons that the show generally has received high marks from critics: The program doesn't hold the Bruce family blameless for their financial troubles.
The family is on food stamps and other government assistance, but episodes show family members haven't given up all luxuries. Laura is shown buying $5 gourmet coffees on a regular basis, the children are enrolled in expensive activities such as baseball, cheerleading and voice lessons, and the family is shown eating out several times a month.
Bruce said the transition from owning a $1.5 million a year business to one that now takes in next to nothing has been difficult, especially when it comes to how it affects his children.
"The hardest struggle has been recognizing that I didn't want my kids to have to work as hard as I did," Bruce said. "I was one of eight and paid my way through college, and I wanted to do something to give my kids a little more of a jump-start on life."
Bruce, though, said he's optimistic that his family's finances are starting to turn around. The family received a payment for the show, after taping was completed in July. But the payment, the amount of which hasn't been disclosed, wasn't enough to solve all problems. Laura continues to work as a first-grade teacher, and Bruce has taken a part-time job as an installer for a window company while he tries to rebuild his business.
Bruce also isn't ruling out continuing the show, which was taped during an eight-week period where filming took place for six days a week for 12 to 15 hours a day.
"We'll see what the network has to say," Bruce said. "We'll see if they want to continue the story. I hope it has created some opportunities for our children. For me, I don't know. I'm too dang ugly to do much television."
Copyright 2018 The Lawrence Journal-World. All rights reserved. This material may not be published, broadcast, rewritten or redistributed. We strive to uphold our values for every story published.