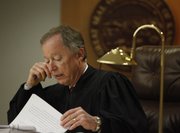 Douglas County District Judge Michael Malone will sit with the Kansas Supreme Court in December to hear appeals in four cases.
The state Supreme Court has appointed Malone, a former Douglas County district attorney and judge since 1982, to fill in for Chief Justice Robert E. Davis, who died Aug. 4.
On Dec. 10, Malone will sit with the justices and hear oral arguments in three criminal cases, including two murder cases and a sex crimes case, plus an eminent domain proceeding. Malone will then participate in deliberations and drafting of the opinions in the cases. It will be his fourth assignment to sit with the court.
Robert Fairchild, Douglas County's chief judge, sat with the court in the same fashion on a case in November.
Gov. Mark Parkinson has appointed Kansas Court of Appeals Judge Nancy Caplinger of Topeka to replace Davis permanently on the court. No date has been set for the appointment to take effect, said Ron Keefover, a judicial branch spokesman.
Copyright 2018 The Lawrence Journal-World. All rights reserved. This material may not be published, broadcast, rewritten or redistributed. We strive to uphold our values for every story published.