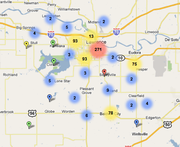 View an interactive map of foreclosures in Douglas County from 2006 to 2010.
Recently mortgage paperwork from a national bank crossed the desk of Lawrence attorney Jonathan Becker.
It came with a signature Becker recognized: M. Matthews.
Becker receives information from an electronic mailing list that tracks the employees of national mortgage companies who have allegedly signed off on an enormous number of mortgage documents without checking the detailed information that they contained.
Those employees have been dubbed robo signers — and M. Matthews is among them.
"We know it is a false affidavit," Becker said about the paperwork.
The day after Becker spied the questionable signature, banks and federal regulators were testifying before Congress on the faulty paperwork practices that threatened to worsen the nation's housing crisis.
The Kansas Attorney General's Office is among the 50 attorneys general who are investigating the process.
"Part of what we are doing is creating a framework to identify how many Kansas homeowners might have been affected by this," said Gavin Young, spokesman for the Kansas Attorney General's Office. "There is just no way of knowing."
Young couldn't say much else, noting that the attorney general's office considers the matter an ongoing investigation.
Foreclosures rising
Foreclosures in Douglas County have continued to climb. So far this year, the Douglas County Sheriff's Office has auctioned 204 homes that have gone into foreclosure. That's a 62 percent increase from the number of total sheriff's sales in 2009 and a 143 percent increase from 2007, the year before the economy tanked.
Business at Housing and Credit Counseling Inc. has remained brisk.
At the start of the economic downturn, the nonprofit agency mainly counseled clients who had taken out bad loans or had mortgages that were beyond what their salaries could cover, said Robert Baker, director of education. Now, it's people who've been laid off.
"What you are a seeing now are more folks who had decent jobs and could afford the mortgage, but now in an economic downturn it is not affordable," Baker said.
As foreclosures rise, Becker sees more people willing to walk away from their homes.
"I'm seeing people come in and you can look at them for 35 seconds and you can tell this guy is struggling and depressed. And the reason he is depressed is because he is facing a no-win situation. He is trying to put a roof over his wife and kids," Becker said. "You tell him you can walk away and not have pay on your mortgage, you can just see the anxiety just literally shedding off of him."
If banks know homeowners are ready to surrender their home, Becker said, they have become more willing to work out a loan modification.
Both Becker and Baker said working with banks to modify mortgages is taking longer and has become more complicated. Instead of automatically sending homes into foreclosure, banks are more willing to hire attorneys to litigate the cases, something Becker said actually can be beneficial for his clients.
At HCCI, counselors can spend up to 40 hours on a single case.
"And I know there are exceptional cases that took a lot longer than 40 hours," Baker said.
A messy paper trail
There's no question in Becker's mind that local residents are among those holding mortgages that are being called into question by Congress.
At the root of the problem was the continuous buying and selling of mortgages once the homeowner signed the dotted line. To help process those transactions, the banking industry in 1997 created the Mortgage Electronic Registration Systems (MERS) to help track those loans. According to the Associated Press, three out of every five mortgages on the market are registered through MERS. MERS doesn't actually hold the promissory note to the home, just the mortgage records.
"We are seeing this over and over again," Becker said. "Either the promissory note and mortgage get separated at birth or they get separated somewhere down the line so you end up with someone holding a promissory note that is no better than a signature note that you get at your local bank. And a mortgage that they can't foreclose on because they don't have the promissory note."
The court then has to make a determination on who owns the property.
For those going into foreclosure, the lost trail of paperwork can buy homeowners more time.
One of Becker's clients is a couple who have been able to stay in their house for four and half years while the banks straightened out the paperwork.
"If a homeowner stands up and raises the slightest question about the paperwork, it grinds it all to a halt," Becker said.
Copyright 2018 The Lawrence Journal-World. All rights reserved. This material may not be published, broadcast, rewritten or redistributed. We strive to uphold our values for every story published.