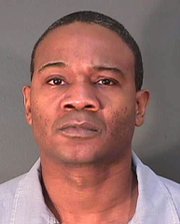 In 1985, a Douglas County jury convicted Devin T. Galloway of Lawrence of the kidnapping and rape of a neighbor. Galloway was paroled in 2006 after serving more than 20 years for the crimes.
But Galloway, 48, says he committed several other local crimes for which he was never prosecuted.
As he settles into middle age — and a life sentence in a Texas prison for committing another crime — Galloway says a guilty conscience has him trying to set the record straight.
"I would very much like to express my sorrow and remorse," wrote Galloway in letters to the Journal-World. "Also in my wake I left a lot of victims most are still living and I assume some have passed on to which I believe that revealing these crimes this will give my many victims some closure maybe?"
In the letters, Galloway takes blame for five Lawrence crimes — all occurring in the early 1980s. He wrote about three of the crimes, including:
• A 1982 robbery at gunpoint of a 16-year-old girl shopping on Massachusetts Street.
• A 1981 armed robbery at the Town & Country store. Galloway said that he "pulled the trigger on the gun however the gun misfired."
• A 1983 armed robbery of a "credit union bank" near 23rd and Iowa streets.
Sgt. Matt Sarna, spokesman for Lawrence police, said investigators are looking into whether the information provided by Galloway matches with any unsolved cases from that time.
"It's always nice to clear some old cases," said Sarna, who added that police probably wouldn't take any action against Galloway, as the statute of limitations on many of the crimes has long passed.
Admission by offenders for all crimes committed — even those they haven't been arrested for — is part of the therapy and treatment in Kansas prisons, said Rik Kendall, director of correctional programs for DCCCA Inc.
But the lack of any repercussions for Galloway has Kendall, who has worked with thousands of offenders over the years, questioning Galloway's motivation.
Is he a repentant offender trying to give closure to victims, or a publicity-hungry inmate with a lot of time on his hands?
"I wouldn't attribute it to any sense of altruism," Kendall said.
Galloway's Douglas County conviction stemmed from a 1984 crime in which a neighbor said Galloway tied her up in her apartment and raped her. Galloway was sentenced to 30 years to life, though he was paroled after serving 21 years.
Galloway was arrested, convicted and sentenced to life in prison in Texas for a sexual assault committed shortly after he was paroled from Kansas in 2006.
Copyright 2018 The Lawrence Journal-World. All rights reserved. This material may not be published, broadcast, rewritten or redistributed. We strive to uphold our values for every story published.