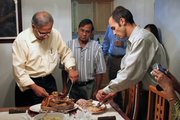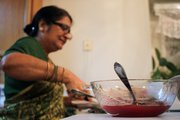 East met West Thursday evening when more than 30 members of Lawrence's Bengali community attended Thanksgiving dinner at the home of Dhananjay and Ranu Pal.
The couple both work at Kansas University and decided to open their home after seeing the Bengali community get larger with an influx of students and researchers from the area in India.
The couple served American Thanksgiving fare, including turkey and mashed potatoes, but also offered traditional Bengali foods. The Pals and their friends cooked chicken biryani, fish patties, a potato dish called aloor dom and many other foods popular in the Bengali region.
Ranu said she noticed more Bengali students and researchers at KU than in years past, so she and her husband decided to hold the Thanksgiving dinner.
"We are trying to blend in," she said of the American foods like turkey.
Members of the KU community were there from all different disciplines, including math, electrical engineering and pharmacology and toxicology. The Pals' daughter came home from Colorado for the event as well.
"For a lot of these students, my parents are sort of their host parents," said their daughter, Arundhati Pal.
Copyright 2018 The Lawrence Journal-World. All rights reserved. This material may not be published, broadcast, rewritten or redistributed. We strive to uphold our values for every story published.