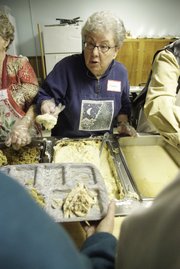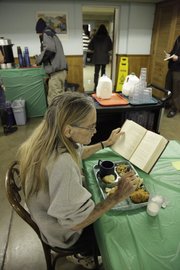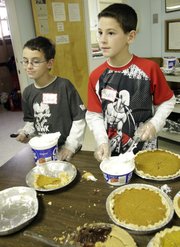 After being greeted by Greg Moore, director of the Lawrence Inter-denominational Nutrition Kitchen, the eager Thanksgiving Day guests are handed a tray and utensils by Jenny Brockman.
Brockman's volunteering at the annual Thanksgiving Day meal with her son, Cody, who runs back and forth replenishing the supplies for his mom. The two hundred or so diners — attending what has become a decades-old holiday tradition at First Christian Church, 221 W. 10th St. — are then offered green beans by Jerry Rutledge, who volunteers once a month at LINK with his wife. Lawrence resident Donna Obenland, who started helping out at the event after the death of her husband, offers the mashed potatoes. Moving down the line, Scott Jackson doles out the rolls and muffins, after which his 8-year-old daughter, Auria, politely asks everyone, "Would you like butter?" Regardless of the response, Auria follows up with a cheery "Have a happy Thanksgiving."
And when the food is all gone, the guests deliver their empty trays to Brockman's boyfriend, Rick Kupper, completing a cycle of volunteer efforts by community members helping out those who may have nowhere else to go on Thanksgiving.
For many of the volunteers, helping out makes a strong personal impact.
"It makes me feel good," said Obenland, whose two children live out of state. Instead of being alone on the holiday, Obenland gets a chance to meet people and make a contribution to her community. "I feel kind of like it's an honor to do it."
The volunteer efforts are essential, as Moore says they never know for sure how many will come for the meal. Last year, there were about 150, but the year before, more than 200 showed up. As he surveys the crowd this year, he's predicting a heavy turnout, and hoping the 30 or so 25-pound turkeys will be enough. Luckily, he said, LINK's been receiving calls all day, and getting deliveries of extra food from community members.
"It's all about the community," said Moore, showing no surprise at the extra, thoughtful donations by his fellow Lawrencians.
The volunteers, meanwhile, give up some of their Thanksgiving Day with their own families to be at the event. But it's worth it, Brockman said.
"I told my family that I love them, but this is what I wanted to do," she said.
When the last person has come through the line, the volunteers will sit down and feast on the food. They'll enjoy their meal with the new friends they've made among their fellow volunteers and guests.
"What could be a better day?" Obenland said.
Copyright 2018 The Lawrence Journal-World. All rights reserved. This material may not be published, broadcast, rewritten or redistributed. We strive to uphold our values for every story published.