News and notes from around town:
• There are new signs that North Lawrence farm ground that once was proposed to be converted to an industrial park will continue to be used for agricultural purposes. Members of the Roger Pine family recently have sold about 98 acres of farm ground near North 1900 Road and East 1500 Road to Donald F. Kresie. Kelvin Heck, who brokered the deal for Grubb & Ellis/The Winbury Group, said Kresie is a Topeka area doctor and farmer who indicated he purchased the property for its agriculture value.
The property was part of 145 acres that Lawrence businessman Jes Santaularia proposed in 2008 to convert into an industrial park for businesses looking to be along Interstate 70. That proposal never won city commission approval, after area residents said it would increase drainage problems and remove too much prime agricultural soil from production. Heck, who also was a broker for that project, said there has been no recent interest in reviving that project.
The property that recently sold will not impact the Pine Family's landscaping and sod farm operations. Those businesses will continue. The property that was sold is on the west side of East 1500 Road and just south of North 1900 Road.
• Lawrence residents may soon lose a park that few knew they had. As part of plans for Bowersock Mills & Power Company to build a new hydroelectric power plant on the north bank of the Kansas River, the city is agreeing to lease a little known park to Bowersock on the south side of the river.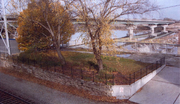 The park — which is a fraction of an acre and includes two trees and a picnic table — is between the Kansas River and the Burlington Northern Santa Fe Railroad tracks. Bowersock officials asked for the park to be closed to public access because plans to build a new power plant on the north bank of the river will require several transformers to be placed near the park.
"A large part of our thinking has to do with safety issues," said Sarah Hill-Nelson, a co-owner of Bowersock.
City commissioners on Tuesday agreed to lease the property to Bowersock, which means Bowersock will take over the maintenance of the property. Parks and Recreation officials said the park received very little use.
• NOTE: The original version of this article incorrectly listed the amount received by the Big Brothers/Big Sisters program.
City commissioners have finalized the amount of money they will give several social service agencies and non-profits as part of the 2011 budget. Commissioners, when they approved the budget this summer, said they wanted to hold the line on funding for outside agencies. But they did not approve specific amounts for individual agencies until a newly formed Social Service Funding Advisory Board reviewed the requests. The advisory board recommended funding only for agencies that had received money in 2010, and they recommended that each agency receive the same amount they did in 2010. The group made recommendations for both general fund and special alcohol fund.
Agencies that received funding and their amounts included:
• Ballard Community Center: $7,500
• Boys and Girls Club of Lawrence: $243,722
• Big Brothers/Big Sisters: $27,000
• Douglas County CASA Inc: $20,000
• DCCCA: $41,000
• DCCCA First Step House: $27,661
• TFI Family Services: $6,750
• Ecumenical Minister's Fellowship: $4,000
• Health Care Access Pharmacy: $26,000
• Bert Nash Homeless Outreach: $164,000
• Lawrence Community Shelter: $84,000
• Salvation Army: $24,000
• Housing and Credit Counseling: $17,100
• Jayhawk Area Agency on Aging: $7,400
• The Shelter Inc.: $32,000
• Van Go Mobile Arts: $79,000
• Warm Hearts: $6,000
• Willow Domestic Violence Center: $23,000
• Headquarters Inc.: $22,500
• Lawrence Police School Resource Officers: $250,000
The advisory board did not fund two agencies that asked for funding, in part because they had not received funding in 2010. Lawrence Public Schools asked for $49,710 in special alcohol tax money to fund the "Youth Coalition," which would be made up of 300 high school students in Lawrence who would work on events to prevent substance abuse. The Lawrence Alcoholic Recovery House also asked for $10,000 to help fund operations.
People who want to see information on all the requests can click here.
• Lawrence-based Sunflower Outdoor and Bike Shop recently has been named one of the 100 best bike shops in the country. Sunflower was included on a list put together by bicycleresearch.com and Bicycle Retailer and Industry News.
Copyright 2018 The Lawrence Journal-World. All rights reserved. This material may not be published, broadcast, rewritten or redistributed. We strive to uphold our values for every story published.