Longtime Lawrence activist and bookstore owner Mary Michener died Friday at age 91.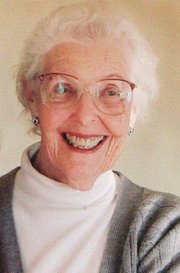 Friends and relatives remembered her as a warm, caring person who always took time to connect with everyone in the room.
She operated the Adventure Bookstore in downtown Lawrence for 23 years after its founding in 1972, said her son, Walter Michener. People would stop in the store and she would encourage them to pull books off shelves and stick around awhile, he said.
"It was a lovely atmosphere," inside the store, Walter Michener said. "There were large numbers of people who knew my mother by name and would stop in the store."
After leaving the bookstore, she volunteered at the Lawrence Public Library.
Michener also advocated for a number of causes throughout her life while active in the Lawrence Coalition for Peace and Justice. She spoke out against the use of nuclear weapons, and worked for years to advocate for public transportation in Lawrence, which eventually became a reality with the formation of the Lawrence Transit System.
"She was invested in all sorts of things," said David Brown, a longtime friend and fellow member of the Lawrence Coalition for Peace and Justice. "As a community, Lawrence has benefited in so many ways because of her."
That was likely because of her kind spirit, he said.
"It's hard to explain how caring she really was," he said. "It was a sincere interest in people that just oozed from her spirit."
Mary Michener also found time to support her husband, Charles Michener, a retired KU distinguished professor and a world authority on the subject of bees, and family, Walter Michener said.
No funeral service is scheduled, but an outdoor memorial service is planned for the spring.
Copyright 2018 The Lawrence Journal-World. All rights reserved. This material may not be published, broadcast, rewritten or redistributed. We strive to uphold our values for every story published.