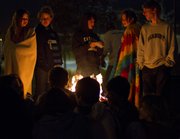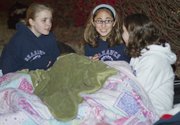 Huddling around a small campfire for warmth, 50 high school students found out first-hand a little of what it would be like to live without a home.
The Bishop Seabury Academy students — freshmen, sophomores, juniors and seniors — were in the middle of 24 hours of serving and learning about the homeless community.
Bill Gollier, the school's community service coordinator, has helped organize the event in Lawrence for the past six years.
"I wouldn't miss it for the world," Gollier said. "It's one of the funnest things I do."
Under Gollier's guidance, students worked with organizations that aid the local homeless population. They worked on various projects and collected food from the nearby community to donate. The food collected was organized by grade in the Bishop Seabury parking lot for distribution on Monday.
"On one hand it's sad," freshman Thomas Westbrook said. "But on the other it's good to be able to help."
Gollier said the school's goal of collecting 7,000 perishable food items would be difficult, but that didn't stop the students, who volunteered for the project, from trying.
"We have a lot of fun doing it as a school," Bishop Seabury junior Alyson Oliver said. "I like giving back to my community."
Students also worked much of the day without food, their last meal coming at lunchtime, their next not until lunch a day later. Going without food was difficult for many of the students, who were not used to skipping meals.
"We'll start fasting and later on it'll hit you that you're hungry," Oliver said. "You have to keep pushing through and you think about how many other people have to do that every day."
The temperature Sunday night dipped to around 40 degrees, colder than Gollier had expected after the warm afternoon. It was even colder for freshman Isaac Ward, who forgot his socks.
"I'm learning how hard some people have it," he said.
And Gollier said while the students usually start the day upbeat and excited, the gravity of the experience seemed to set in during the early morning hours. He said the quiet of the night combined with the dark and the cold created a somber mood.
"It makes them think," Gollier said. "It's not perfect. A lot of people do a lot better things, but it's worked well for here."
The students will continue working through the early afternoon Monday to distribute the food they collected and finish projects. They'll get to return to their families and beds Monday night, but many said the experience will stay with them.
"I've found a new definition for what a community is and what you do to make a community stronger," Oliver said. "I think it brings us really close together."
Copyright 2018 The Lawrence Journal-World. All rights reserved. This material may not be published, broadcast, rewritten or redistributed. We strive to uphold our values for every story published.