Photo Gallery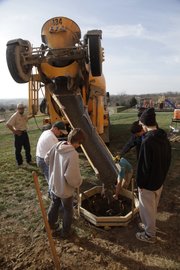 Dakota Zinn's Eagle Scout project
Rod Zinn spent much of his Saturday morning 9 feet underground.
He wasn't descending a ladder and digging through dirt and clay just for fun — his 14-year-old son, Dakota, needed this hole for his Eagle Scout project. Dakota is working on installing a 25-foot-tall steel cross outside of First United Methodist Church at 867 U.S. Highway 40, just west of the interchange for Kansas Highway 10, a project he came up with after driving by the building and realizing it didn't look very church-like.
"I was riding in the car with my dad and we went by," he said. "We said, 'Is that our church? It looks like more than a fire station than a church.' I thought we should do something to make it look more like a church."
Dakota, a ninth-grader at Southwest Junior High, is fairly young to be working toward Eagle Scout designation, something his father didn't earn until shortly before the 18th-birthday deadline. He wasn't scared of the challenge, though.
"Most people do easy stuff, like a trail," Dakota said. "Knowing who my dad is and who I am, we have to do something big."
And big it is. The finished cross, which is a Methodist cross with a red flame, will weigh up to 3,500 pounds and require a special truck to install.
Saturday's task was to prepare the foundation for the cross. Dakota and a few other Scouts from Troop 61 helped dig the hole, haul soil and rocks away, and guide the concrete into the hole.
Stefan Kuczera, a senior at Free State High School and fellow Boy Scout, came out early Saturday to help. He hopes that later when he is working on his Eagle Scout project, the other boys will be willing to assist him.
"You want people to help you," he said.
The project is receiving support from business owners and the church alike. The concrete for the foundation was donated by a local company, and Dakota said a man from his church walked up to him last week and gave $500 to the project. Ultimately, it will end up costing up to $3,000 for the new adornment for the church, which motorists on K-10 will be able to see.
Copyright 2018 The Lawrence Journal-World. All rights reserved. This material may not be published, broadcast, rewritten or redistributed. We strive to uphold our values for every story published.