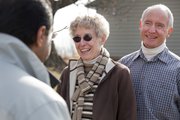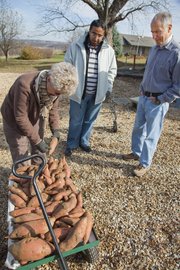 Janet and John Huchingson don't have much family in Lawrence.
Janet is a fourth-generation Lawrencian and recalls having big family Thanksgivings with many relatives in the past. And while only a few still live in the area, the Huchingsons have found a new way to fill the space around the table on turkey day.
"Now there's only about six of us left, so we import our families," Janet said.
She and her husband, John, host many international students from Kansas University during the Thanksgiving holidays, introducing students from places as far away as Saudi Arabia and Ghana to American holiday traditions.
This isn't new for Janet. In 1954, when she was 13, her father received a letter from KU asking the family to host a Japanese graduate student, Shigeo Watanabe.
Forty-six years later, the Huchingsons participate in a number of programs that help international students, including the Betty Grimwood Thanksgiving Homestay Program. This year, they have three students assigned to them for Thanksgiving, but they always welcome more.
"We'll take anybody and that's who we want," John said. "The more variety the better."
The Huchingsons moved back to the Lawrence area when they retired in 2004, and that year they had students from China, Saudi Arabia and Germany at their dinner. Last year, Mohammad Alkuwari, a graduate student in education from Qatar, came to Thanksgiving dinner. He has stayed fast friends with the family.
"I think it's cool to meet new people and have the American experience," he said. "It's not only meeting new people, but making a long-term friendship."
Alkuwari will be joining the Huchingsons for Thanksgiving again this year, for which they will cook a traditional meal, only gluten-free and pork-free. Janet said they explain to their guests details about the foods — such as what stuffing is and how to put gravy on top of mashed potatoes.
The Huchingsons enjoy being around the students, sometimes for holiday meals that include as many as 20 students.
"We were both academics, so it's been really good to keep in touch with students," Janet said.
And they enjoy showing students what an American home is like, an experience that might not be available to the students otherwise. Some students enjoyed the couple so much that they kept in touch. The Huchingsons went to the wedding of one in Italy, and others who are still around town will come over for other meals. The Huchingsons have provided rides to the airport when some students travel.
"They are kind of just incorporated into the family," Janet said.
Copyright 2018 The Lawrence Journal-World. All rights reserved. This material may not be published, broadcast, rewritten or redistributed. We strive to uphold our values for every story published.