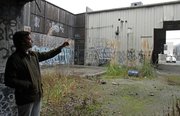 Berkeley, Calif. — As numerous cities get set to levy voter-approved taxes on medical marijuana retailers, some municipalities in Northern California are already moving aggressively toward creating government-sanctioned marijuana farms to help supply them.
Cities hope to rake in even more tax revenue from medical marijuana cultivation, which has remained in the shadows although it has been legal in the state since 1996.
Today, Oakland will begin the application process for four permits to run industrial-scale marijuana farms within city limits.
In Berkeley, a successful ballot measure to allow medical pot cultivation in industrial zones has would-be growers scrambling to score scarce real estate.
Farther north, the Sonoma County wine country town of Sebastopol passed an ordinance Tuesday allowing for the creation of two large gardens for medical marijuana dispensaries, and two more "collective" gardens where patients could grow their own.
In Eureka, the Humboldt County seat, a committee is taking applications for four medical marijuana cultivation and processing permits to serve as-yet-unopened dispensaries in the city.
All this is taking place even though the state's medical marijuana laws require any businesses in the medical marijuana trade to operate as nonprofits — and even though the amount of marijuana the cities are authorizing growers to cultivate could net a typical drug trafficker decades in federal prison.
The U.S. Drug Enforcement Administration did not return messages seeking comment on how the agency might respond if the city-approved operations actually started growing pot.
Oakland City Councilmember Rebecca Kaplan, who co-sponsored that city's cultivation ordinance, said the DEA had contacted her office but only to request copies of the regulations and background materials. She said the agency advised her that they were conducting research into the ways various cities were handling medical marijuana regulation.
"I think that's a very hopeful sign," Kaplan said.
California voters earlier this month rejected a ballot proposition that would have legalized marijuana for recreational use, but the already thriving medical marijuana industry shows few signs of decline.
The state's loose standards for medical marijuana use allow Californians to easily obtain a doctor's recommendation for the drug. Yet the law provides little guidance for how patients or their caregivers can legally cultivate the drug, which has forced growers underground.
Oakland officials hoped to bring pot growing into the light and curtail the environmental damage, fire danger and crime associated with covert grow houses.
The City Council over the summer authorized four permits for large-scale growing. The permits would not set limits on the amount of pot that could be grown, but growers would have to implement environmental protections, security, labor standards, transparent finances and inventory tracking.
Permit holders would have to pay an annual $211,000 fee as well as a special higher tax rate levied on marijuana businesses by the city.
About 300 individuals and groups have expressed interest in obtaining cultivation or dispensary permits, city records show.
Copyright 2018 The Associated Press. All rights reserved. This material may not be published, broadcast, rewritten or redistributed. We strive to uphold our values for every story published.