Photo Gallery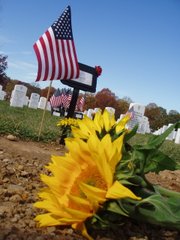 Kansas soldier laid to rest in Arlington National Cemetery
Arlington, Va. — It was quiet the afternoon of Nov. 12 at Arlington National Cemetery.
Crisp, vivid sounds punctuated the peace: Commands shouted to the honor guard. Hymns the military band played. The muffled beat of the drum. Four wheels of the horse-drawn caisson meeting the pavement.
It was one of the most impressive things I'd ever witnessed.
And, personally, it was also a sad moment — only because it's always difficult to say good-bye to a loved one.
Minutes earlier in the basement of the New Administration Building, the Army had awarded the Purple Heart and Bronze Star to my cousin, Spc. Thomas Adam Moffitt.
The 21-year-old Wichita soldier was killed Oct. 24 in an insurgent attack in southeastern Afghanistan. The graveside service at Arlington was 13 days after about 1,000 mourners gathered for a memorial service at Central Community Church in Wichita.
This day, a Friday, I stood with dozens of family members, friends and military personnel at McClellan Circle on the eastern edge of the massive cemetery. The Washington Monument was in plain view.
The honor guard began to transfer Tom's flag-draped casket from a hearse onto the black caisson.
As the band played the old hymn "This is My Father's World," every movement from the guards was measured.
Once the casket was in place, two guards meticulously ensured the flag was tightly in place.
Then, with the dull drum beat, we all started walking on Marshall Drive behind the caisson on our 0.3-mile journey. His grave awaited in Section 60.
Tom's parents, John and Brenda Moffitt, and his older brother Jake, a Kansas University student and my cousin, led other family members.
"John and I both felt like the caisson meant a lot to us," my aunt Brenda said. "It was a beautiful fall day, and Tom would have loved it because he was a hunter."
Tom
My cousin had been serving in Afghanistan since August.
He died when insurgents attacked his unit with small arms fire and rocket-propelled grenades in the Sarobi District of the Paktika Province, according to military officials.
Tom enlisted in February 2009, less than a year after he graduated from Wichita Northwest High School. He chose the infantry and was serving in Delta Company, 2nd Battalion, 506th Infantry Regiment, 4th Brigade Combat Team of the 101st Airborne Division, based at Fort Campbell, Ky.
He was seven years younger than me, but he had no trouble connecting with people of all ages.
His fun-loving and active nature made him a joy to be around both as a kid and as he grew into a tall, skinny young man. He left a large circle of friends around Wichita and in the Army.
Tom always had a heart for adventure. Before he even went to kindergarten, I can recall hiking through the Flint Hills together near Alma on the farm of our grandparents, Bob and Jan Diepenbrock.
He loved to hunt and fish and dreamed of returning one day to the Flint Hills to farm or ranch.
And he had another passion.
"Tom was almost a patriot from birth," his father wrote in remarks read at his memorial.
He had served a stint overseas starting in 2009 in South Korea, but he longed to be in the middle of the action. He was a little nervous but also pumped about being sent to one of the world's most dangerous places.
And he kept open the possibility he would re-enlist for a few more years, which after his death gave his parents some comfort that he enjoyed what he was doing.
And they chose to have him buried with thousands of others who also served the country.
'The flag will honor him'
Once we completed our walk to Bradley Drive, the honor guard had already removed the casket from the caisson. Tom was prepared to join 320,000 other servicemen and their families buried at Arlington.
The chaplains and honor guard have the services down to a science, and seemingly few words are spoken. With so many veterans dying daily, especially from World War II, about 27 burials are conducted each weekday.
Army Chaplain Kelly O'Lear read my aunt's favorite Bible verse, Joshua 1:9. She would quote it often to Jake and Tom when they were growing up: "Be strong and courageous, do not be terrified, do not be discouraged, for the Lord your God will be with you wherever you go."
Minutes later, the squad of seven riflemen heard their commands: "Ready. Aim. Fire."
Boom.
I knew it was coming. But in the quiet and serenity, I and others still flinched. They received two more commands and fired two more rifle volleys each.
A bugler then played the slow notes of "Taps."
"In life he honored the flag," O'Lear said, "and in death the flag will honor him."
Holding the flag over Tom's casket, the guard carefully made the 13 folds of the flag. Their movements were short, swift and with a purpose. After they finished, Army Brig. Gen. Edward P. Donnelly presented the flag to Tom's parents.
"On behalf of the president of the United States and the people of a grateful nation, may I present this flag as a token of appreciation for the honorable and faithful service your loved one rendered this nation," Donnelly said.
The honor guard paid a great tribute to my cousin.
"They're just so honorable," his mother said. "I'm just thankful for the tradition that's still there."
A temporary marker rests at Tom's grave to be replaced in a few months with his headstone.
"We couldn't have asked for a better way to bury him," my grandfather, Bob, said hours after the service.
I returned to Arlington two days later and picked up a cemetery map. A summary on it outlined Arlington's history: "All buried here, taken from many walks of life, creeds, and races, answered their country's call. Their stories will be remembered."
Copyright 2018 The Lawrence Journal-World. All rights reserved. This material may not be published, broadcast, rewritten or redistributed. We strive to uphold our values for every story published.