Past Event
When: Saturday, December 11, 2010, 7:30 p.m. to 9 p.m.
Where: Free Methodist Church, 3001 Lawrence Ave. , Lawrence
Cost: $5 - $10
-->
-->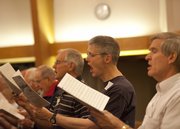 Steve Eubank is an early riser. He springs from bed before 5 a.m. and hops onto his treadmill. He walks then showers and dresses and heads to Topeka High School, snatching breakfast from the McDonald's drive-thru on the way. As choral director at THS, he teaches all day with rehearsals till 5 p.m., and on Mondays he slides into his car and drives to Lawrence to direct rehearsals for the Lawrence Civic Choir. The choir practices for two hours, from 7:30 to 9:30 p.m., and Eubank doesn't enter his home again until well after 10 p.m.
"It's hard work at a fast pace, and we get a lot done," Eubank says.
Eubank is now preparing the choir for its annual holiday concert, which will take place at 7:30 p.m. Dec. 11 at the Free Methodist Church, 3001 Lawrence Ave. The centerpiece of this year's concert is "Gloria" by composer Linda Wells, which Pat Fairchild, chair of choir's board, describes as "exciting and complex." It's the choir's first time performing the number.
At first members were nervous about performing because they had never heard the piece and they lacked a media file of the performance — a recording they could listen to and try to recapture. A choir member sent a message directly to the composer, Linda Wells, telling her of their predicament. The artist sent a CD to the group immediately.
"It's wonderful because then you get a real feel of what the composer was after," says Kathie Pelan, a member of the choir for six years. "You don't often get that chance to know what was in the composer's head."
This year's holiday concert will be a blend of popular Christmas songs and serious compositions. From "O Magnum Mysterium" by Morten Lauridsen to "I'll Be Home for Christmas" by Kim Gannon, there will be a wide range of styles represented.
"We push ourselves," says Eubank. "Quite frankly, every piece we're doing is challenging. We have great attendance. They understand they have to be there to make it work."
Before watermelons are replaced with pumpkins, before the summer heat is whisked away by the chill of winter, the civic choir begins rehearsing for the holiday concert. They start in August, practicing for 16 consecutive Mondays by performance night.
There are 87 people in the Lawrence Civic Choir, each bringing her own disparate voice and musical background running from the professional to the casual. In the past there was a scarcity of men's voices, but now there is a good representation in the tenor, bass and baritone sections.
Jean Milstead, 68, sang in a choir in Illinois when she was a young girl. It had been years since she had sung publicly when she joined the Lawrence Civic Choir. She was delighted to resuscitate her girlhood passion. Dues are reasonable, and she didn't have to undergo a tryout to be a member.
"It has been an adjustment for me," says Milstead, "but there are other people like me who want to get back into singing. It's a great way to do it."
Pelan, a seventh-grade math teach for the Olathe school district, says rehearsals resonate so well she often sings songs on her way home and then at work for the next few days following practice.
"It gets under your skin, and you start singing it all the time," she says.
Pelan is committed to the civic choir. For six years Monday night rehearsals have been embedded into her weekly schedule, now an essential part of her life.
"It's something I do for me," she says. "Don't mess my with my Monday nights."
Tickets to the holiday concert are $10 for the general public, $8 seniors and $5 for children under 12.
"There are a couple of songs alone that are worth the price of admission," says Eubank. "It's a beautiful, beautiful concert; It's the type of music that gets everyone in the season."
Copyright 2017 The Lawrence Journal-World. All rights reserved. This material may not be published, broadcast, rewritten or redistributed. We strive to uphold our values for every story published.