Past Event
When: Saturday, December 4, 2010, 10 a.m. to 6 p.m.
Where: Lawrence Arts Center, 940 New Hampshire St., Lawrence
-->
-->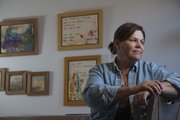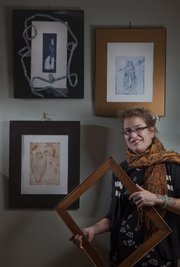 Malissa Martin-Wilke loves the wide array of beautiful, unique artwork available at the Holiday Art Fair, but for her the best part is the opportunity to visit directly with artist who made it. Unlike looking at a piece of art in a gallery and wondering what inspired the artist to make it, Martin-Wilke says you can just walk up and ask them.
"It's an incredible opportunity," Martin-Wilke says. "You get a very intimate setting where you can talk one-on-one with the artist."
Martin-Wilke, president of the Lawrence Art Guild, will be one of the 50 local artists selling their work at the 17th annual Holiday Art Fair. The annual art fair next month at the Lawrence Art Center, 940 N.H., features fine art such as ceramics, paintings, photography, glasswork and jewelry.
Martin-Wilke will be bringing pieces of encaustic painting, one of the most ancient painting mediums that uses beeswax.
Despite the sluggish economy, Martin-Wilke believes that people will enjoy buying a gift at the art fair more than a big-box store because of the items' uniqueness.
"You're really going to be able to get a one-of-a-kind gift," Martin-Wilke says. "With the economy, I think people care more about what they buy."
This is the second year for Lawrence artist Liza MacKinnon to participate in the art fair. Every week since Sept. 1, MacKinnon has been attending art shows and has kept busy in between shows working on pieces to bring to the art fair. MacKinnon, who does printmaking such as silk screens and copperplates, says she's enjoyed the long-lasting friendships she's made with other local artists through the fair.
"It's inspirational to be around such a great artists," MacKinnon says. "It's very exciting to have everyone all in one place."
MacKinnon plans to bring fun, playful pieces such as collages and greeting cards that will make great holiday gifts. Last year, MacKinnon's handmade advent calendars were a popular gift.
MacKinnon says with the event being the same day as the annual Christmas parade downtown the atmosphere is always festive and full of holiday cheer. She says the event is laid-back and enjoyable — not something you'd associate with holiday gift- buying.
"It's a great day," MacKinnon says. "The crowd and the artists are all in such a good mood!"
The event benefits the Lawrence Art Guild and gives the guild a chance to direct the public to the 1109 Gallery, which is in its second year of displaying local artists' work. Martin-Wilke says for people who are unfamiliar with the local talent in Lawrence the art fair is a great way to expose them to a variety of art in one place and tell them about the gallery.
Bob Gent, coordinator of the Holiday Art Fair, says this event is just one of the many local events that really strengthens the Lawrence community. The event, which follows the annual Christmas parade, provides a day full of holiday fun, live music and one-of-kind artwork.
"People get to appreciate the talent and beauty in our town," Gent says. "It's a great way for people to brighten up their own lives with art."
Copyright 2018 The Lawrence Journal-World. All rights reserved. This material may not be published, broadcast, rewritten or redistributed. We strive to uphold our values for every story published.