Related document

Appeals court ruling in rape cases ( .PDF )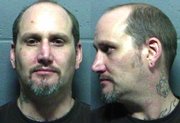 The Kansas Court of Appeals on Friday upheld the 2008 conviction of Cory Elkins, who was sentenced to 48 years in prison for raping two women in Lawrence in 1994 and 1995.
In his appeal, Elkins had said an accumulation of errors denied him a fair trial. But the appellate court disagreed, saying in its opinion: "We find no accumulation of errors upon which Elkins could predicate such a claim."
Elkins was arrested based on DNA evidence more than a decade after the attacks occurred.
In 2006, the national database known as the Combined DNA Indexing System generated a match between the two crimes in Lawrence and Elkins, who had been incarcerated in California on an unrelated matter.
Much of Elkins' appeal centered on the DNA evidence.
During his trial, the Kansas Bureau of Investigation's DNA analyst Sindey Schueler had referred to the DNA Indexing System as the "offender index." Elkins objected and moved for a mistrial. Douglas County District Court Judge Michael Malone refused but ordered the state not to use the term "offender" when referring to the database.
The appeals court said, "the reference to an offender index was an isolated event that was never repeated in the trial."
The KBI analyst also said Elkins' DNA sample had become contaminated, but not in a way that she couldn't make a match. Elkins argued he should have been able to cross-examine the person in California who took his DNA sample and entered it into the database.
But the appeals panel said Elkins "fails to show how he was harmed by the inability to cross-examine the unknown California official."
Elkins also claimed the state failed to turn over vital information before the trial. He requested documentation regarding the contamination incident. However, during testimony, Schueler referred to previously undisclosed handwritten notes.
Elkins' attorney had requested a mistrial at that point, but Malone again refused. The appeals court agreed with Malone, saying the undisclosed notes didn't affect any other testimony on the matter.
Copyright 2018 The Lawrence Journal-World. All rights reserved. This material may not be published, broadcast, rewritten or redistributed. We strive to uphold our values for every story published.