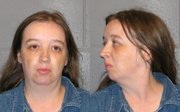 A 34-year-old Lawrence woman convicted of endangering two girls who say they were sexually assaulted by her husband can face a steeper sentence than normally allowed under state guidelines, a Douglas County judge has ruled.
District Judge Peggy Kittel has granted a motion from prosecutors and found that Natasha M. Brown ignored obvious signs her husband was sexually "grooming" the two girls and failed to protect them when they frequently visited her northern Lawrence home over a period of two years.
"The defendant violated the special trust and confidence given to her by the victims' parents to safeguard the children," Kittel wrote in her ruling this week.
Amy McGowan, a chief assistant Douglas County district attorney, has said Brown would qualify for a more severe sentence because of the age of the victims and because the defendant had a relationship of trust with the girls.
A jury in October convicted Brown of two counts of aggravated child endangerment and one count of lewd and lascivious behavior. Her husband, Donald Brown, 33, faces a January trial on multiple charges, including three counts of child rape. He is accused of having sex with and molesting the two girls, who are now ages 9 and 11, from June 2008 to May of this year.
Natasha Brown's attorney has said she has no prior criminal history, which meant she originally faced a seven-month sentence on each count. But under state guidelines, Kittel would have been required to sentence her to probation.
Because of her ruling, Kittel now has the authority to sentence Brown to a maximum of nearly 14 years in prison on each count.
The girls' family met the Browns through Heritage Baptist Church, which is northwest of Lawrence. Prosecutors have said that in May the girls told their parents and accused Donald Brown of having sex with them. Police later arrested the Browns.
Copyright 2018 The Lawrence Journal-World. All rights reserved. This material may not be published, broadcast, rewritten or redistributed. We strive to uphold our values for every story published.