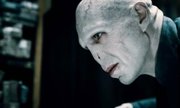 Lawrence.com has a guide to the notable and familiar British faces who have graced Hogwarts and the Muggle world since the movie series began in 2001.
Some people have read all the books. Some have seen all the movies. Some people have done both.
Harry Potter enthusiast Sherri Heald has them beat.
She's done all that and then some, attending every midnight premiere for the six movies already released. Friday's first showing of "Harry Potter and the Deathly Hallows: Part 1" made number seven.
Heald and her husband joined more than 1,500 other fans Thursday night at the Hollywood South Wind 12 theater, 3433 Iowa St., for the premiere of the seventh movie in what will be an eight-part series. The new film is the first in the two-part finale.
The movies, based on books written by J.K. Rowling, chronicle the lives and worlds of wizards and witches.
"It starts off geared toward kids," Heald said. "But the series grows with the characters. It's really cool."
Hundreds of other people shared the same opinion on the series. They patiently waited inside the theater hours before the movies — showing on eight screens — were scheduled to start. Movie-goers who bought their tickets early were allowed to find their seats while others waited in the lobby.
Brie Mingus and her friend Lauren Fleming were happy to mingle with like-minded Potter fanatics before the 12:30 a.m. showing. Each was dressed in a robe and tie, attire appropriate for the school setting of the series.
"I wanted to feel more a part of the movie," Mingus, a Free State junior said.
And Mingus and Fleming weren't alone in their choice of clothing for the premiere. Area residents represented characters on both sides of the good/evil coin. Kansas University sophomore Bharath Krishnamoorthi turned some heads with his "Dobby" house elf costume.
As people continued to enter the theater, the level of excited chatter increased.
"The anxiety is killing me," Mingus said.
Once the excitement wears off and the movie ends, nearly two and a half hours later, fans will have to regroup and prepare for a normal Friday schedule.
"I'm going to try to be at work on time," Heald said.
Many knew what the late-night movie meant for their sleep schedule and devised Friday plans filled with power naps and caffeine. KU sophomore Julia Harris focused on some homework and charged her phone in the theater lobby. She said her sorority was having an early-morning fire drill, but even that wouldn't bother her. She planned to stay up all night. Students and working adults alike seemed to share the same sentiment about what they were getting themselves into. Mingus, a Free State High School junior, summed it up.
"It's definitely going to be worth it," she said.
The final movie in the Harry Potter series is slated for a July 2011 release.
Copyright 2018 The Lawrence Journal-World. All rights reserved. This material may not be published, broadcast, rewritten or redistributed. We strive to uphold our values for every story published.