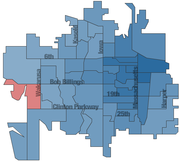 View our interactive map that provides a precinct-by-precinct breakdown of how Lawrence voted in the 2010 election.
Topeka — Inaugural festivities for Kansas Gov.-elect Sam Brownback will include community service events and a prayer service.
Brownback says his inaugural committee is working with community groups to organize the service events. He said Kansans need to help each other because more than 100,000 people are unemployed.
The inaugural committee plans to have those events from Jan. 5 through Jan. 7.
The traditional inaugural ball is Jan. 8 in Topeka, with the prayer service Jan. 9 at MidAmerica Nazarene University in Olathe.
Brownback and other statewide elected officials will be sworn in Jan. 10 on the south steps of the Statehouse in Topeka.
Copyright 2018 The Associated Press. All rights reserved. This material may not be published, broadcast, rewritten or redistributed. We strive to uphold our values for every story published.