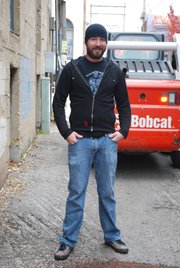 Name: Adam Hess
Age: 29
Sign: Ares
Occupation: Bike Shop Manager/Bike Tech at Sunflower Outdoor Bike Shop
Hometown: right here, Lawrence, Kansas
Time in Lawrence: my whole life
What were you doing when you were scouted? working at Sunflower
How would you describe your style? 'Bike-shop lifer' — very casual.
What are your current favorite fashion trends? Anything warm in the winter time. Marino wool and layers, for example.
What are your least favorite fashion trends? Socks and sandals — the sock/sandal scandal.
What would you like to see more of in Lawrence? Go carts, Mini golf, and roller rinks.
What would you like to see less of in Lawrence? People that look like they're from "Water World" begging for money.
Do you have any fashion influences? My friend Collin Earhart and any style from a John Hughes film. I don't dress like that, but I like those fashions.
Do you have any piercings or tattoos? I have pierced ears and lots of tattoos. My most recent tattoo is a tribute to Kansas. It is a hoot owl.
People say I look like… My brothers, Jeremy and Jake.
Tell us a secret: Sometimes I sleep with my guitar.
Copyright 2018 The Lawrence Journal-World. All rights reserved. This material may not be published, broadcast, rewritten or redistributed. We strive to uphold our values for every story published.