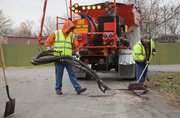 The city of Lawrence has a new tool in its arsenal to fight those wretched winter potholes. It's called spray injection patching.
A $168,000 piece of equipment arrived in Lawrence this fall that allows the city to spray a chip seal like substance into the city's thousands of potholes.
"This is the latest and greatest," said Tom Orzulak, the city's street division manager. "A lot of people all over the country are using it."
The method, which also is used by the Kansas Department of Transportation, is faster and requires fewer workers. But more importantly, assistant public works director Mark Thiel said, it allows the city to make lasting fixes to potholes during winter.
Before now, the cold mix asphalt that crews used during the winter wouldn't last more than a couple of days. And the longer-lasting hot mix asphalt can only be used during warmer months.
"We're doing the same thing as cold mix and hot mix. The difference is this technology is designed to last longer than a traditional patch," Thiel said. "Ultimately, it saves the city money."
On Wednesday morning, crews were out fixing a good-sized pothole near the corner of 12th Street and Almira Avenue.
The process, which takes just a few minutes and is a two-man job, involves blowing debris off the hole, spraying a layer of oil over the hole followed by a layer of oil-covered rocks and then topping it off with clean rocks.
Crews then rake over the hole to keep it even with the road. As soon as the hole is filled, cars can drive over it. The patch is permanent, lasting until the city rebuilds the road.
At first, Orzulak said it took some practice for the city's crews to keep the holes even with the road. Which might explain why patches on the first roads the city fixed are a bit bumpy.
"It's kind of like an art. … It's like frosting a cake the first time," Orzulak said. "We are getting better at it."
Some of the first roads the city repaired with the new technology, such as Kasold Drive and Bob Billings Parkway, are slated to be rebuilt next summer.
The new equipment's true test will come when it snows. During last year's particularly harsh winter, crews fixed 400 to 500 potholes a day.
"I wish we would have had it last year," Orzulak said.
Copyright 2018 The Lawrence Journal-World. All rights reserved. This material may not be published, broadcast, rewritten or redistributed. We strive to uphold our values for every story published.