Marty Marsh may draw a paycheck as a paraeducator at Pinckney School, but the Lawrence school district will be honoring the longtime employee this week for her complementary role that's become increasingly valuable as needs rise and dollars dwindle.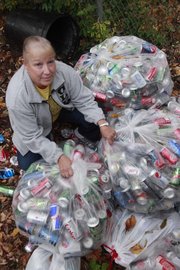 That would be Marty Marsh, volunteer.
"It's just because it needs to be done and I enjoy doing it," said Marsh, who started volunteering at Pinckney 33 years ago. "Somebody's got to do it."
Marsh will be among 25 volunteers and one business to be honored Wednesday as "Friends of Education," distinctions bestowed annually by the district and Lawrence Education Association. Winners will receive candy-filled mugs and plenty of thank-yous during two hour-long recognition ceremonies: the first at 4 p.m., or the second at 5:30 p.m.; a combined reception is set for 5 p.m. to 5:30 p.m.
Events will be at district headquarters, 110 McDonald Drive.
"We have a lot of people who do a lot of things behind the scenes," said Julie Boyle, district director of communications. "It's nice for them to be honored."
Marsh is the lone honoree who remains on the district's payroll. She's been drawing a check at Pinckney for the past 26 years — whether she's been a clerical aide, a meals supervisor or a paraeducator — and her employee dedication often extends into volunteerism.
"Marty is not just a valuable worker — that's expected, and she does it well," said Lesa Frantz, Pinckney principal. "What is extraordinary about her is the time, effort and quality that she devotes outside of her 'duty day.' The time clock is not Marty's friend."
That's because Marsh helps with school programs, shops for before- and after-school game supplies, makes memory books, assembles graduation bulletin boards and maintains the Pinckney Panthers In the News Then and Now Board.
She weeds the school gardens, bakes gingerbread cookies and hauls recycled aluminum cans to town, generating cash for needed supplies and equipment.
She's collected box tops for education, and before that she gathered Dillons receipts so that the school could "shop" for stuff depending on how much money supporters had spent on groceries.
"That's how we got our lectern and PA system in the gym," Marsh said. "And the paper shredder … and classroom books … and microscopes … and tape recorders … "
And she could go on, but doesn't see the need. Marsh knows there are many volunteers throughout the district who handle all kinds of tasks, take on all sorts of responsibilities and ease any number of resource restrictions, simply by helping out.
Marsh, 63, can't imagine being away from the familiar brick building and campus at 810 W. Sixth.
"I started when my son came to Pinckney as a first-grader," she said, with a laugh. "He'll turn 40 next year. … I don't know if I'll ever get out or not."
Copyright 2018 The Lawrence Journal-World. All rights reserved. This material may not be published, broadcast, rewritten or redistributed. We strive to uphold our values for every story published.