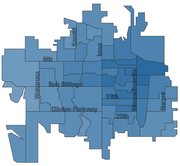 View an interactive map with a precinct-by-precinct breakdown of the election results in Lawrence for Kansas Attorney General.
Topeka — Kansas Attorney General-elect Derek Schmidt has chosen a veteran of the office to lead his transition team.
John Campbell served as deputy state attorney general from 1995 to 2003 under then-attorney general Carla Stovall. He also served as head of litigation for Stovall's predecessor, Bob Stephan.
Since 2003, Campbell has been general counsel for the state Insurance Department. He's also an adjunct professor of law at Washburn University in Topeka.
Schmidt is the leader of the Republican majority in the state Senate. He defeated incumbent Attorney General Steve Six earlier this month and takes office Jan. 10.
Copyright 2018 The Associated Press. All rights reserved. This material may not be published, broadcast, rewritten or redistributed. We strive to uphold our values for every story published.