News and notes from around town:
• Olathe-based Garmin Industries indeed is the much-rumored tenant set to occupy space in the new Bioscience and Technology Business Center on Kansas University's West Campus. Matt McClorery, director of the incubator, confirmed Wednesday morning that Garmin has signed a lease for office space to accommodate 12 to 15 software development professionals. Plans call for the new Lawrence operations to begin in January. The incubator also has signed two other tenants — a start-up in the electronic health records industry, and a technology firm that specializes in LED lighting. The incubator, which opened in August, is now about 40 percent leased. Check back later with ljworld.com for a more complete story.
• All those transit buses parked near 31st and Haskell soon will be a thing of the past. A new joint maintenance and parking facility for KU and city transit buses is expected to be open by Dec. 19, a city official confirmed. KU and the city previously agreed to work together on a new $4.5 million bus facility along Timberedge Road near the Reuter Organ manufacturing facility in northern Lawrence. The city will pay KU an annual lease payment, but those payments are expected to be about $500,000 less over the next 10 years compared to what the city would have paid to stay at the leased facility at 31st and Haskell. The city, though, did contribute significant amounts of upfront money to help fund the facility.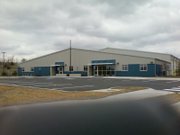 The new facility includes six maintenance bays — up from two at the current facility — an automated bus wash bay, a centralized dispatch center for KU and city transit operations, an onsite fueling station, and a paved parking lot large enough to accommodate 100 full-sized buses.
• A nearly $90 million discussion is likely to get started again at Lawrence City Hall. A new report from the city's utilities department estimates that design work on a new sewage treatment plant south of the Wakarusa River will need to begin by 2014. That would allow the plant to open by 2019.
That's still a ways off, but City Manager David Corliss said the plan to increase sewer rates to pay for the massive project will need to be developed within the next year. The plant is expected to be the largest infrastructure project ever undertaken by the city, with cost estimates between $80 million and $100 million.
The project is a numbers game in other ways, too. The utilities department is basing the 2014 start date on an assumption that Lawrence's population will grow by about 1,250 people per year between now and then. If the city's population grows by 1,650 people per year, the start date would need to begin in 2012.
From 2000 to 2009 — according to Census data — Lawrence has grown at an average of 1,276 people per year. But from 2005 to 2009, that growth rate has slowed to 846 people per year. However, to complicate matters more, the most recent Census numbers showed a large uptick in growth. From 2008 to 2009, the Census Bureau estimates the city added 1,528 residents.
The numbers are important because city engineers believe the city's current sewage treatment plant will reach its capacity once the city grows to 105,000 people. Previously, the city thought the plant would reach its capacity at 100,000 people, but they've revised the estimate upwards based on further study.
"We don't want to be late on this project," Corliss said. "We don't want to be early either, but we really don't want to be late."
What town talk are you hearing? Send me a tip at clawhorn@ljworld.com.
Copyright 2018 The Lawrence Journal-World. All rights reserved. This material may not be published, broadcast, rewritten or redistributed. We strive to uphold our values for every story published.