Photo Gallery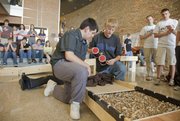 Claim the Terrain competition
Kansas high school students participate in the KU School of Engineering "Claim the Terrain" competition on Tuesday, Nov. 9 ,2010.
And the winners are ...
Overall
First: Made in China Built in America - Olathe Northwest
Second: Viking 2 - Seaman High School
Third: Lions 2 - Lawrence High School
First place terrain finishers
Mount Oread: Viking 2 - Seaman High School
Memorial Stadium: Made in China Built in America - Olathe Northwest
Wescoe Beach: Made in China Built in America - Olathe Northwest
Presentation Winners
First: Team Volcano - Free State High School
Second: That Other Team - De Soto High School
Third: Lions 2 - Lawrence High School
Some things ran smoothly Tuesday in Eaton Hall on Kansas University's campus.
Others, not so much.
But it all went according to plan as hundreds of Kansas high school students escaped their daily routines to compete in the 2010 High School Design Competition.
This year's "Claim the Terrain" theme required students to construct vehicles to traverse various landscape elements. The KU-inspired courses included Memorial Stadium with turf, Wescoe Beach with sand and a hilly Mount Oread.
About 200 students competing on about 50 teams tested their engineering knowledge and design skill in front of their peers — all in pursuit of the ultimate title of Grand Champion.
Each hopeful group was given a seat in the Spahr Engineering Classroom, which served as a home base for the competitors and their projects. The conversations in the room centered on last-minute fixes to vehicles, as well as winning strategies.
While every team wanted to perform well, teams from Lawrence's local schools were eager to live up to expectations set for them in previous years.
"There's a lot of pressure on Lawrence High," LHS junior Kayla Hicks said. "We've always done good on this stuff in the past."
Teams were called out into the building's main lobby by KU student volunteers when it was time to test their designs. Motors whirred, tires squealed and sounds of failure and success echoed through the nearby halls. Students crowded around to watch as classmates and rivals attempted each type of terrain.
"It's something that they haven't done," competition coordinator Eric Witthaus said. "It's something that's new, something that's challenging."
And it wasn't challenging for only the competitors; it was challenging for organizers as well. Witthaus, an architectural engineering major, said he'd been planning and preparing for the annual contest since August.
"It's a pretty intense pressure situation for them," Witthaus said. "But everyone seems to be having a good time."
Students participating in the competition chose to do so for a variety of reasons. Some saw opportunities for jobs in engineering down the road. Some simply enjoyed the challenge. De Soto junior Francais Healy said he was intrigued by the science.
"I just liked the sound of it," he said.
Witthaus said the early exposure to the field of engineering was a positive aspect of their education.
"For them to get involved and interested and know something about engineering early on or in high school at all is great for them," Witthaus said. "It's just a great opportunity."
After completing the three terrain runs and giving presentations to a panel of judges, the top 10 teams advanced to the finals. There they navigated an "Ultimate Terrain."
Hicks was nervous but optimistic about her team's chances, should it advance to the finals.
"Every team has had a fault in one of the terrains," she said. "I'm hoping their faults are just worse than ours."
Copyright 2017 The Lawrence Journal-World. All rights reserved. This material may not be published, broadcast, rewritten or redistributed. We strive to uphold our values for every story published.