Photo Gallery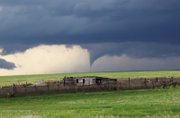 Storm chasing across the U.S.
Lawrence resident Darin Brunin spent last summer traveling through 16 states to chase storms and help put together footage for the Discovery Channel show "Storm Chasers" and an IMAX movie on tornadoes.
Fifteen minutes after a tornado flattened Greensburg on May 4, 2007, Darin Brunin arrived in town. As a native of another small Kansas town, he said it was eerie.
"You look at a town and you usually see trees where a town is, but we started going into town that night and the trees were gone. You could pretty much see right through it," he said. "It was like a war zone, like a bomb went off or something."
Brunin, a 26-year-old Lawrence resident, is an avid storm chaser and has seen countless other tornadoes in addition to the Greensburg storm. This summer, he got to follow his passion for three months, working for the Discovery Channel television show "Storm Chasers" and helping produce an IMAX movie called "Tornado Alley." This month, he'll start appearing on the show more regularly.
Brunin said his love for storms started when he was 6, when a tornado passed near his home in Rossville. He stood in his driveway with his whole family watching the twister go by. From that moment, he was hooked.
"When I turned 18, I was like, 'I'm not standing around any longer, I'm going to go do it,'" he said.
Since then, he's traveled to 16 states and driven thousands of miles, all in pursuit of storms. Last February, he got a call to join the team for "Storm Chasers" for the summer, and he jumped at the opportunity, despite the long hours on the road and the danger.
"I'd chase from Mexico to Canada if the opportunity presents itself," Brunin said.
He did just about that. For three months, he took leave from his job at a wind energy company and traveled more than 25,000 miles, at one point spending 65 straight days in a hotel. He rode in a 14,000-pound Tornado Intercept Vehicle, or TIV, with four other people while helping film.
At one point during filming, he said he was close to a tornado and had to grab on to whatever part of the vehicle he could after the storm shifted and the crew got too close, a scene that will show up later this season on "Storm Chasers."
Brunin said he's come to terms with the danger associated with chasing, though.
"There's been times when I say, 'OK, it's out of my hands,'" he said. "The tornado is going to do what it's going to do. It's right here and hopefully I make it out."
Brunin is no stranger to damage caused by storms, though. He lived in the Aberdeen Apartment building that was struck by lightning, losing all of his belongings to the fire.
He said the tragedy helped him know better how to react to someone who has just lost a home to a tornado.
"Now when you see somebody's home get destroyed by a tornado, it's almost easier to relate," he said. "You know how to handle the situation better and maybe be more in sync with those people whose lives have just changed forever."
Brunin plans to go out again next year, and says he'll chase storms until the day he dies, no matter what it means for his paycheck or his life. For him, it's more about going places not many other people have gone. And those places almost always involve some kind of wind.
"Wind definitely runs my life," he said.
Copyright 2018 The Lawrence Journal-World. All rights reserved. This material may not be published, broadcast, rewritten or redistributed. We strive to uphold our values for every story published.