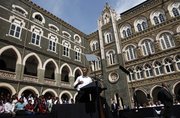 President Barack Obama heralded the relationship between the United States and India as a "defining partnership" of the 21st century today during a grand ceremony marking his visit to the world's largest democracy.
Obama's limousine was escorted to Rashtrapati Bhavan, the palatial residence of India's president, by guards on horseback. Obama greeted Indian dignitaries, then stood with his hand on his heart as a military band played the U.S. national anthem.
The president spoke briefly, thanking the Indian people for their hospitality and saying he hoped his trip here would strengthen the friendship between the two nations.
"The partnership between the United States and India will be one of the defining partnerships of the 21st century," Obama said.
Following the arrival ceremony, Obama and first lady Michelle Obama placed a wreath at Raj Ghat, a memorial to Mohandas Gandhi. As a sign of respect, the Obamas removed their shoes before placing a large white wreath on a flower-covered tablet in front of an eternal flame.
This morning's grandeur kicked off a day heavy on diplomacy. Obama was to meet privately with India's Prime Minister Manmoham Singh, and the two leaders were then to take questions from the press. Later today, Obama planned to speak to the Indian Parliament, with announcements expected on counterterrorism, regional security, clean energy, climate change and economic growth.
Hanging over Obama's 10-day trip to Asia are heavy election losses at home. On Sunday, Obama promised to make "midcourse corrections" to reinvigorate his embattled domestic agenda in the face of a testier American public and more combative Congress.
Domestic politics came up not in response to a question from a Washington reporter but rather an Indian college student, who told Obama: "It seems that the American people have asked for a change."
The president agreed that people vented their frustration about the economy by sacking many incumbents. A "healthy thing," he said, even though his Democratic Party suffered, losing control of one of the chambers in Congress. He said he would not retreat on spending money for energy and education, and offered no specific policy changes.
But then he added that the election "requires me to make some midcourse corrections and adjustments. And how those play themselves out over the next several months will be a matter of me being in discussions with the Republican Party."
Obama's words reflected the new political reality, sinking in by the day, that he must give ground to have hopes of advancing the leftover promises of his 2008 campaign. He is increasingly likely to compromise on extending tax cuts not just for the middle class but for the rich, at least temporarily, and will focus more on bringing down the federal deficit.
Copyright 2018 The Associated Press. All rights reserved. This material may not be published, broadcast, rewritten or redistributed. We strive to uphold our values for every story published.