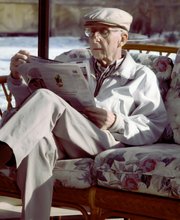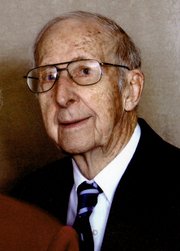 A longtime steward of Kansas University's finances who served under six chancellors died Saturday after a battle with Alzheimer's Disease.
Keith Nitcher, 89, served in several roles at KU. After leaving a job as an assistant state comptroller, he worked at the university from 1957 until his retirement in 1993. He had been the university's first comptroller, then a deputy vice chancellor for finance and finally the university director of business and fiscal affairs.
"He had an important role at the university, but he was the kind of guy who made sure that everybody had an important role at the university," said his son, John Nitcher, a Lawrence attorney.
Another son, Ron Nitcher, said his father worked hard — often six and a half days a week. His family members and co-workers both recalled him as a man of impeccable honesty and ethics — one who was often in the position of having to tell people "no" when their numbers didn't add up.
"He was the financial conscience of the university for many years," said Del Shankel, KU's 15th chancellor who worked with Nitcher in many capacities for several years. "He kept me from making several big mistakes."
Theresa Gordzica, who currently holds Nitcher's position, said Nitcher hired her as a student assistant while she was still working on her bachelor's degree. He continued to serve as a mentor for her for 15 years as she continued to work in the office. She remembered his good sense of humor and the respect he earned from his peers.
"He had so much integrity and was so well thought of by everybody, not just at the university, but also at the state," she said.
Ron Nitcher said his father was a big country music fan, likely as a result of his rural roots. Keith Nitcher and his wife, Hazel, owned a farm in Franklin County that he would occasionally tend to as a way to relieve stress, Ron Nitcher said.
A memorial service for Keith Nitcher is scheduled for 2 p.m. Wednesday at First Baptist Church, 1330 Kasold Drive.
Copyright 2018 The Lawrence Journal-World. All rights reserved. This material may not be published, broadcast, rewritten or redistributed. We strive to uphold our values for every story published.