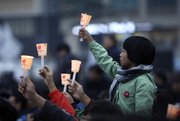 Seoul, South Korea — Thousands of people chanted anti-globalization slogans in South Korea's capital Sunday to protest this week's Group of 20 summit. Part of the crowd attempted to march down nearby streets but were stopped by riot police, who fired pepper spray.
The protesters sang, danced and waved signs reading "We oppose the G-20" at a large plaza near Seoul City Hall. South Korea is hosting a gathering of leaders from the G-20 advanced and developing economies on Thursday and Friday.
Some protesters danced and played traditional Korean drums, while about 9,000 riot police and many police buses encircled the rally site to keep order. Police said about 20,000 people took part in the rally.
The rally was initially peaceful, but some protesters engaged in minor scuffles with riot police who tried to prevent them from marching through downtown streets. Riot police fired pepper spray at some protesters at the front of the crowd, forcing them back.
The protesters oppose globalization and say the G-20 is not focusing on creating jobs or protecting social programs.
Labor activist Lee Chang-geun accused the G-20 of failing to formulate meaningful measures to curb speculative financial capital and of pushing cuts in public spending on social welfare.
Activists plan to stage smaller rallies every day until the summit begins Thursday, he said.
In Manila, six Filipino activists who planned to join anti-globalization rallies in Seoul said they were denied entry by South Korean immigration officials on Saturday and forced to return home.
Calls to South Korea's Justice Ministry seeking comment were unanswered late Sunday.
Copyright 2018 The Associated Press. All rights reserved. This material may not be published, broadcast, rewritten or redistributed. We strive to uphold our values for every story published.