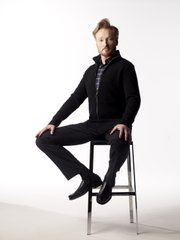 Los Angeles — As their new 9 p.m. TBS talk show gets ready to roll Monday, Conan O'Brien and his staff have started to learn how the other half lives. After 17 years at NBC, they're adjusting to cable-sized portions.
"We have a lower budget for the show," Jeffrey Ross, executive producer of "Conan," said in an interview. "So unfortunately we couldn't bring everybody with us" from "The Tonight Show," where O'Brien was unceremoniously dumped and Jay Leno reinstalled as host earlier this year.
And then there's that 250-seat studio on the Warner Bros. lot in Burbank, which "Conan's" designers have rigged up to resemble the kind of midsized theaters O'Brien successfully played on a nationwide comedy tour earlier this year. "The studio is a little bit smaller than what we had" at "Tonight's" studio in nearby Universal City, Ross said.
Yet O'Brien's switch from legacy broadcaster to basic-cable outpost represents a hugely symbolic moment in the evolution of late-night TV, as the audience tilts away from aging franchises such as "Tonight" to younger competitors.
In October, for the first time ever, Comedy Central's "The Daily Show With Jon Stewart" became the No. 1 late-night program among adults ages 18 to 49, beating "Tonight" and CBS's "Late Show With David Letterman," according to the Nielsen Co.
Leno and Letterman are now battling for supremacy of a diminished and notably grayer audience. The median age of the Letterman viewer is 56; for Leno, it's 55. Meanwhile, Stewart generates just as much news and water-cooler chatter as do the traditional hosts. And the field includes a growing roster of other personalities with their own followings, such as Jimmy Kimmel, Stephen Colbert and Chelsea Handler.
The plethora of talk shows brings to mind Johnny Carson, who ended his reign as late-night king in 1992 by noting that the world's population grew by 2.4 billion since he started doing "Tonight" in 1962. "Half of those ... will soon have their own late-night TV show," he joked.
"There's no king of late night anymore," said Brad Adgate, an analyst for ad firm Horizon Media in New York. "There's a lot of princes, even a princess, but there's no king."
TBS is angling to grab a big slice of the youth audience with O'Brien, whose goofy "Coco" persona has developed a strong cult following among college kids. Ross said that though the program will have a different flavor, it will still feature the familiar elements, including a monologue, comedy bits, guest interviews and even sidekick Andy Richter.
On the TBS lineup, O'Brien is joining George Lopez, another broadcast refugee whose "Lopez Tonight" has aired on the network for a year. "Lopez Tonight" will get pushed back to 10 p.m. so "Conan" can take the prime 9 p.m. spot.
The Time Warner-owned cable network is hoping for a double punch that can match what NBC has with Jay Leno and Jimmy Fallon as well as CBS' block of Letterman and Craig Ferguson. CBS declined to comment, and an NBC spokesperson could not be reached.
"We're in competition with everybody," Ross said. "The gap's narrowing. Cable is not Siberia anymore. ... The Comedy Central guys have proven that."
For the first week, O'Brien has an A-list lineup that includes Tom Hanks, Jon Hamm, Seth Rogen, Michael Cera and Lea Michele. But the ensuing weeks could prove more difficult, especially if ratings slump.
Copyright 2018 The Lawrence Journal-World. All rights reserved. This material may not be published, broadcast, rewritten or redistributed. We strive to uphold our values for every story published.