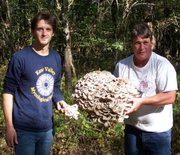 A Lawrence man who built a cooking hobby into a regional salsa brand died Monday of liver cancer.
Stan Schneck, 51, created Señor Stan's salsa, which is bottled today in a commercial kitchen in Baldwin City and available in grocery stores stretching from Manhattan to Des Moines to southern Missouri.
He met Christine, the woman who would become his wife, while she was working at Checker's grocery store more than a decade ago while he was delivering salsa.
"You buy a jar, and if you don't like it, I'll pay you double for it," Christine Schneck remembered her husband telling her.
Since Stan was diagnosed with liver cancer this summer, Christine has been essentially running the business, which will continue to operate after Stan's death.
She recalled how he began the business in 1996 after a friend's mother gave him some pointers on how to make good salsa.
"Stan was loved by so many people. It was just amazing," Christine said. "All of the people he grew up with were still friends with him and still hung out."
Though cooking was his true passion, he also enjoyed fishing and mushroom hunting.
Sherry Kay, president of a local mushroom hunting club, said Schneck would frequently join the group on forays for interesting mushrooms. Though some in the group were interested for mostly scientific purposes, Schneck frequently had other interests in mind, Kay said.
"He was more on the eating side," she said, but frequently led the rest of the group to his favorite mushroom spots. "We're going to miss him a lot."
Services are scheduled for 7 p.m. Saturday at Rumsey-Yost Funeral Home, 601 Ind. The family suggests memorial contributions to the Johns Hopkins Liver Transplant Program, which may be sent in care of the funeral home.
His mother, Donna Schneck, said Stan frequently found success growing up, on the Lake Forest swim team, and as class president his sophomore and junior year at Bonner Springs High School. He also wrestled and played in the jazz band. His success continued into the salsa business, she said.
"He was always on top of whatever he did," she said.
Copyright 2018 The Lawrence Journal-World. All rights reserved. This material may not be published, broadcast, rewritten or redistributed. We strive to uphold our values for every story published.