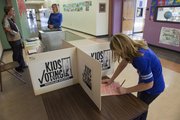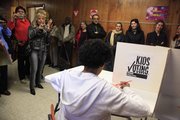 Like thousands of their mentors filing into polling places throughout Lawrence, dozens of budding voters endorsed plans Tuesday for an expanded Lawrence Public Library.
In unofficial balloting conducted through Kids Voting Douglas County, 543 Lawrence students in grades five through 12 voted 62.8 percent to 37.2 percent to approve the library's $18 million expansion plan.
Registered voters were slightly less enthusiastic in their approval of the measure, 55 percent to 45 percent.
The youthful enthusiasm didn't come as a surprise to those who have been there, done that.
"Kids use the library more than adults," said Kiely Mosiman, a Lawrence High School senior who joined more than 50 schoolmates who volunteered Tuesday evening to compile results. "And when you're a kid, your first instinct is to vote 'yes.'"
In all, 1,878 youngsters — from preschool up through high school — cast unofficial ballots at 46 polling sites in Douglas County. Kids Voting has been alive in the county for 10 elections now, since 1992.
All students voted for governor, while many older students' ballots included the same questions as everyone else's, right down to retention of judges and township clerks.
Among votes cast for candidates in selected races for Kids Voting Douglas County:
• Governor: Tom Holland, 1,024; Sam Brownback, 457.
• U.S. Senate: Lisa Johnston, 398; Jerry Moran, 319.
• U.S. Representative, 2nd District: Lynn Jenkins, 150; Cheryl Hudspeth, 89.
• U.S. Representative, 3rd District: Stephene Moore, 260; Kevin Yoder, 178.
• Kansas Attorney General: Steve Six, 437; Derek Schmidt, 189.
• Kansas Secretary of State: Chris Biggs, 336; Kris Kobach, 212.
• Lawrence Public Library expansion: yes, 341; no, 202.
• Kansas House, 45th District: Tom Sloan, 154; Linda Robinson, 132.
• Douglas County Commission, 1st District: Mike Gaughan, 46; Arch Naramore, 22.
Copyright 2018 The Lawrence Journal-World. All rights reserved. This material may not be published, broadcast, rewritten or redistributed. We strive to uphold our values for every story published.