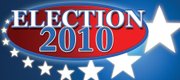 Find detailed candidate profiles, campaign finance information and complete election coverage in our Election Guide.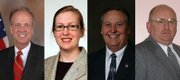 Jerry Moran, Lisa Johnston, Mike Dann and Joe Bells are running for U.S. Senate.
-->
Topeka — The Kansas Republican Party's dominance in U.S. Senate races — dating back to the Great Depression — continued with the election of Jerry Moran.
Republicans have always been the dominant party in modern Kansas politics, but Democrats have usually managed some strategic wins.
Voters sent U.S. Rep. Jerry Moran to the Senate with a huge victory margin Tuesday night, something his fellow Republicans had expected in a race against an articulate but little-known, first-time Democratic candidate.
Moran's win over Democrat Lisa Johnston, a college administrator, fit with the Republican nominee's status in the GOP-leaning state. Kansas hasn't elected a Democrat to the U.S. Senate since 1932.
Also, Moran easily tapped into many voters' discontent with President Barack Obama and his fellow Democrats over the economy and the new federal health care law.
"I'm humbled," Moran told The Associated Press by phone from Hays, where he and his supporters were celebrating his victory. "With success tonight comes great responsibility as we try to turn this country around."
Moran, 56, also has a folksy, approachable image built with hundreds of town hall meetings as a congressman. He's represented the sprawling 1st Congressional District of central and western Kansas since 1997.
"Jerry's been around for a long time, so you see what he's saying, and his town halls, they've been around for a long time," Michelle Hoferer, a 51-year-old Topeka resident and project manager for a company that fabricates limestone, said after voting at a Topeka nursing home.
Moran will replace U.S. Sen. Sam Brownback, a Republican who opted to give up the seat and run for governor.
Johnston, a 39-year-old resident of the Kansas City suburb of Overland Park, has been on leave from her job as an assistant dean at Baker University in Baldwin City. Democrats who met her or heard her speak often came away with a favorable impression.
It didn't translate into votes because she had only a small fraction of the campaign funds that Moran did. The two never debated, further limiting her visibility.
But Johnston told the AP that she had "a wonderful time" campaigning and meeting voters and has received encouragement from fellow Democrats to run for office again. She's not ruling it out.
"I'm not going anywhere," she said. "I'll stay active in politics."
Johnston positioned herself as a fresh face with a new perspective for the Senate, but Moran's conservative voting record seemed in tune with voters in Kansas, where registered Republicans outnumber Democrats by better than 3-to-2.
Moran has advocated repeal of the federal health care law, while Johnston said it contained some good policy. Moran is a strong critic of federal economic stimulus measures pushed by Obama, while Johnston said they'd headed off disastrous economic problems.
"I am pretty much discouraged about everything," said Sonia Williams, a 54-year-old accountant from the Kansas City-area suburb of Mission, who voted a straight GOP ticket. "I don't think we'll be able to repeal the health care plan."
Moran's toughest challenge was the Republican primary in August, when he faced fellow U.S. Rep. Todd Tiahrt in what became among the state's bitterest contests in at least a generation.
Moran prevailed after burning through $5.2 million, and he spent another $671,000 on his fall campaign through mid-October. Johnston's total spending through mid-October was less than $23,000.
8:09 p.m. update
BULLETIN (AP) — Jerry Moran, GOP, elected U.S. Senate, 2010, Kansas.
8:05 p.m. update
Moran has two-thirds of the vote at 66.7 percent. Johnston has 30.5 percent.
7:55 p.m. update
Moran still holds the lead with 65.8 percent of the vote.
Lisa Johnston has 31 percent.
7:43 p.m. update
Jerry Moran still holds a lead with 75.2 percent of the votes.
Lisa Johnston has picked up 10 percent more votes and now has 21.4 percent.
7:22 p.m. update
Republican candidate Jerry Moran is leading the U.S. Senate race with more than 85 percent of the votes after early reports.
Democratic candidate Lisa Johnston is the next closest candidate, with 11.4 percent of the vote.
Other candidate Joe Bells and Mike Dann each have less than 2 percent of the vote.
Copyright 2018 The Lawrence Journal-World. All rights reserved. This material may not be published, broadcast, rewritten or redistributed. We strive to uphold our values for every story published.