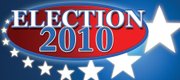 Find detailed candidate profiles, campaign finance information and complete election coverage in our Election Guide.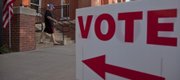 Alan Jilka and Tim Huelskamp are running for U.S. House of Representatives in the 1st Congressional District.
Lynn Jenkins, Robert Garrard and Cheryl Hudspeth are running for U.S. House of Representatives in the 2nd Congressional District.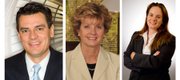 Kevin Yoder, Stephene Moore and Jasmin Talbert are running for the U.S. House of Representatives in the 3rd Congressional District.
Raj Goyle and Mike Pompeo are running for the U.S. House of Representatives in the 4th Congressional District.
-->
-->
-->
-->
Topeka — Kansas Republicans are hoping Tuesday to send three freshmen to Congress to join incumbent Rep. Lynn Jenkins.
Victories would mark the first GOP sweep in congressional races since 1996. The accomplishment would also help the party nationally as it tries to regain control of the U.S. House.
The party was hoping to tap into angry voter sentiment toward incumbents and Washington in general for its handling of the economic recession and lack of new job creation.
Jenkins, a former state legislator and state treasurer, faces Democrat Cheryl Hudspeth in the 2nd District of eastern Kansas. Also on the ballot is Libertarian Robert Garrard of Edgerton.
Republicans put a lot of effort into the 3rd District race that covers the Kansas portion of the Kansas City metro area and part of Douglas County. That's where Stephene Moore, wife of Democrat incumbent Rep. Dennis Moore, is running. Moore has held the seat since winning in 1998.
She faces a strong challenge from Republican Kevin Yoder, chairman of the Kansas House Appropriations Committee, who emerged in August from a crowded primary field. Also on Tuesday's ballot is Libertarian Jasmin Talbert, of Kansas City, Kan.
In the 1st District, Republican state Sen. Tim Huelskamp faces Democrat Alan Jilka, the former mayor of Salina, in the race to replace Republican Rep. Jerry Moran, who was seeking the U.S. Senate seat held by the retiring Republican Sam Brownback.
The 1st District's voter registration tilts Republican and covers 69 counties of western and central Kansas. Huelskamp is a fiscal and social conservative who campaigned on repealing the federal health care law and shrinking the size of the federal government.
In the 4th District, Kansas Republican National Committeeman Mike Pompeo faces Democratic state Rep. Raj Goyle. The seat is held by Republican Rep. Todd Tiahrt, who did not seek re-election but lost the August primary for U.S. Senate to Moran.
Democrat Dan Glickman held the seat until he was defeated by Tiahrt in 1994.
Also on the ballot are Libertarian Shawn Smith and the Reform Party's Susan Ducey.
Copyright 2018 The Associated Press. All rights reserved. This material may not be published, broadcast, rewritten or redistributed. We strive to uphold our values for every story published.