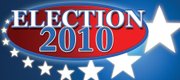 Find detailed candidate profiles, campaign finance information and complete election coverage in our Election Guide.
Wichita — For the past half century, Kansas Supreme Court justices have had little reason to worry about staying on the bench when retention elections rolled around.
Abortion opponents want to change that, starting with Tuesday's election.
Since the gubernatorial nomination process began in 1960, no member of the state's highest court has failed to get a two-thirds majority when up before voters for retention.
But earlier this year, Kansans for Life launched a "Fire Beier" campaign. The effort is named for Justice Carol Beier, who wrote opinions criticizing investigations of abortion clinics. It also wants to oust Chief Justice Lawton Nuss and justices Dan Biles and Marla Luckert.
"The public needs a chance to be involved. They do have a little chance on Tuesday to do something that has very little chance of being successful normally," said Kansas for Life executive director Mary Kay Culp.
Noting the tea party movement and the perceived strength of conservatives in Kansas, Culp said, "If we are ever going to be able to do it, you'd think we would be able to do it now."
Culp contends that the state's high court had interfered with investigations of late-term abortions, and has urged her group's supporters to oust the justices this election. KFL has more than 200,000 households on its mailing list.
A state commission on judicial performance has recommended all four Supreme Court justices be retained.
The court's spokesman, Ron Keefover, said the justices were working on cases and unavailable for comment.
In Kansas, the governor appoints Supreme Court justices from finalists picked by a nominating commission created to insulate the courts from politics. Kansas voters decide every six years whether a Supreme Court justice is retained.
You can check to see if judges have been recommended for retention by visiting KansasJudicialPerformance.org.
Copyright 2018 The Associated Press. All rights reserved. This material may not be published, broadcast, rewritten or redistributed. We strive to uphold our values for every story published.