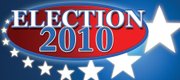 Find detailed candidate profiles, campaign finance information and complete election coverage in our Election Guide.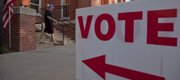 Chris Biggs, Kris Kobach, Phillip Horatio Lucas and Derek Langseth are running for Kansas Secretary of State.
Dennis Hawver, Steve Six and Derek Schmidt are running for Kansas Attorney General.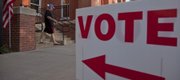 Dennis McKinney and Ron Estes are running for Kansas State Treasurer.
-->
-->
-->
Topeka — Democrats worried that their incumbent Kansas secretary of state could lose Tuesday's election to a professor known for writing Arizona's new immigration law and that angry voters could oust two other statewide officeholders.
Bids to stay in office by Secretary of State Chris Biggs, Attorney General Steve Six and State Treasurer Dennis McKinney were clouded by Republicans' anticipation of a good year. All three Democratic incumbents were appointed to fill midterm vacancies.
Biggs' Republican opponent was Kris Kobach, a Kansas City-area law professor and former state GOP chairman known nationally for advising cities and states, including Arizona, about cracking down on illegal immigration. Kobach's notoriety attracted some voters yet made others uneasy.
But a big issue for Biggs and the other Democratic incumbents appeared to be discontent in GOP-leaning Kansas with President Barack Obama and his fellow Democrats in Congress.
The new federal health care law championed by Obama became a major issue in Six's race against Republican Derek Schmidt, the Kansas Senate's majority leader.
Six refused this year to file a legal challenge or have Kansas join other states in challenges to the health care law, saying it would be a waste of resources. Schmidt hit on the issue, but an Iowa group did far more by spending hundreds of thousands of dollars on television ads attacking Six.
In the treasurer's race, Republican Ron Estes, the Sedgwick County treasurer, acknowledged he didn't have much criticism of McKinney, and the Democrat had outspent him 6-to-1 going into the campaign's final two weeks. But Democrats nevertheless feared the GOP tide would oust McKinney, too.
Insurance Commissioner Sandy Praeger, a Republican, faced no opponent in her bid for a third term.
Copyright 2018 The Associated Press. All rights reserved. This material may not be published, broadcast, rewritten or redistributed. We strive to uphold our values for every story published.