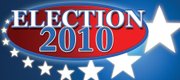 Find detailed candidate profiles, campaign finance information and complete election coverage in our Election Guide.
Topeka — Kansas Republicans hoped voters in Tuesday's election would give the GOP its first clean sweep of statewide and congressional races since the Beatles were charting their early hits.
U.S. Rep. Jerry Moran and U.S. Sen. Sam Brownback headed the Republican ticket as the party's nominees for U.S. Senate and governor. Both were expected to win, and the GOP also hoped to capture all four of the state's U.S. House seats.
Republicans have been talking about a "clean sweep" for months, anticipating a surge of voter frustration in GOP-leaning Kansas with the economy, President Barack Obama and his fellow Democrats in Washington.
Jay Junghans, a 49-year-old Topeka police officer, said he's upset with "a government that doesn't seem to care about what people want." He cited federal spending and the new health care law as examples.
"I think people are upset," the Republican said after voting at the Woman's Club in west Topeka. "We need some different folks running the game."
The GOP hasn't won all statewide and congressional races since 1964. Ironically, that was the last time Kansas went for a Democratic presidential candidate, Lyndon Johnson.
Marcia Kelly, a 60-year-old Topeka real estate agent and traditionally a Republican, found the idea of Republicans running the table depressing and voted a straight Democratic ticket. She said she believes Democrats are trying to strengthen regulation of unethical businesses.
"They're trying to make their way," she said. "The Republicans are barring their way towards progress."
Secretary of State Chris Biggs, a Democrat, had predicted that fewer than 48 percent of the state's 1.7 million registered voters would cast ballots. But election officials said Tuesday that turnout appeared to be a little heavier.
Sedgwick County Election Commissioner Bill Gale said turnout there appeared on track to hit 50 percent, and Johnson County Election Commissioner Brian Newby said his county's turnout could be even higher.
"The reports we're getting, every place has been busy," Newby said between visits to polling sites. "It's a lot stronger than I expected."
Moran was expected to defeat Democrat and first-time candidate Lisa Johnston in the race for Brownback's seat. Brownback was favored to defeat Democratic state Sen. Tom Holland in the governor's race.
Democrats were nervous that the GOP tide might be strong enough to wash out their statewide incumbents, Biggs, Attorney General Steve Six and State Treasurer Dennis McKinney. Insurance Commissioner Sandy Praeger, a Republican, was unopposed.
Biggs' race was notable because his Republican opponent, Kris Kobach, is a law professor who's received national attention for helping Arizona write its new law on illegal immigration.
In U.S. House races, Republican state Sen. Tim Huelskamp was favored to win Moran's seat in the 1st District and GOP incumbent Lynn Jenkins was favored in the 2nd District of eastern Kansas.
The outcomes were less sure in the 3rd, centered on the Kansas City area, where incumbent Democrat Dennis Moore was retiring, and the 4th, in south-central Kansas, an open seat.
In the 3rd, Moore's wife, Stephene, faced GOP nominee and state Rep. Kevin Yoder. In the 4th, Republicans hoped a member of the GOP National Committee, businessman Mike Pompeo, would defeat Democratic state Rep. Raj Goyle.
Copyright 2018 The Lawrence Journal-World. All rights reserved. This material may not be published, broadcast, rewritten or redistributed. We strive to uphold our values for every story published.