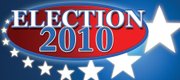 Find detailed candidate profiles, campaign finance information and complete election coverage in our Election Guide.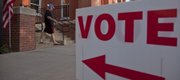 Mike Gaughan and Arch Naramore are running for Douglas County Commissioner.
-->
Democratic incumbent Mike Gaughan handily defeated Republican candidate Arch Naramore for the Douglas County Commission 1st District seat.
With all precincts reporting, Gaughan, who lives in Lawrence, garnered 70 percent of the votes, a total of 5,331 votes. Naramore, also a Lawrence resident, received 30 percent of the votes.
"I'm looking forward to serving for four more years and excited about the challenges ahead. We had a difficult two years," Gaughan said at the Douglas County Courthouse Tuesday evening as he watched results come in. "I feel like we have already set the county on course for a strong recovery and I'm looking forward to being part of that."
Among his top priorities, Gaughan said is creating jobs.
In 2009, Gaughan, who is Attorney General Steve Six's campaign manager, was appointed by a Democratic committee to fill the commission seat vacated by Charles Jones.
Naramore, a Republican, is a former co-owner of Kansas Key Press. In 2004 he ran against Sam Brownback in the Republican primary for a U.S. Senate seat and lost.
Naramore entered the county commission race to give voters an option. He advocated revoking Kansas Athletics Inc.'s nonprofit status, which makes it exempt from paying taxes.
Special projects reporter Christine Metz can be reached at 832-6352
9:29 p.m. update
Gaughan's lead has diminished a bit, but he still leads with 69.5 percent of the vote. Naramore has 30.5 percent.
9:18 p.m. update
Democratic candidate Mike Gaughan leads the Douglas County Commission race with 77.4 percent of the vote.
Republican candidate Arch Naramore has 22.6 percent of the vote.
Copyright 2018 The Lawrence Journal-World. All rights reserved. This material may not be published, broadcast, rewritten or redistributed. We strive to uphold our values for every story published.