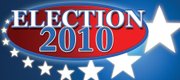 Find detailed candidate profiles, campaign finance information and complete election coverage in our Election Guide.
-->
Topeka — As the governor's race wound down, the two major political party candidates -- Democrat Tom Holland and Republican Sam Brownback -- planned full days of work.
Brownback, a U.S. senator, voted in advance at the Shawnee County election office. Holland, a state senator from Baldwin City, was going to vote Tuesday in Lawrence at the offices of the Wakarusa Township.
Both candidates were scheduled to meet with supporters and do last-minute radio interviews.
They are seeking to replace Democrat Mark Parkinson, who decided against running to keep the office this year.
After voting, Brownback said this election had a lot to do with President Barack Obama.
"I'd like to be able to represent them (Kansans) and do things the Kansas way and not the Obama way," Brownback said.
Brownback reiterated his campaign vows to freeze state spending and look at changes to the school finance formula and state tax system.
Holland has said Brownback's plans on changing the school finance system will result in less equality in funding between school districts and more reliance on local property taxes.
Holland has vowed to increase school funding, which has been cut in recent months, as the economy improves.
Approximately 820,000 or 47.5 percent of registered Kansas voters are expected to cast ballots.
Copyright 2018 The Lawrence Journal-World. All rights reserved. This material may not be published, broadcast, rewritten or redistributed. We strive to uphold our values for every story published.