Douglas County Clerk Jamie Shew is predicting voter turnout to be 41 percent to 43 percent for today's midterm elections.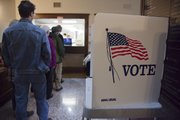 "We still don't see a significant turnout in the Kansas University precincts, and that's such a large part of our registration," Shew said Monday.
Voters in Lawrence will head to the polls from 7 a.m. to 7 p.m. to decide several congressional and state offices, plus an $18 million bond issue to finance an expansion of the Lawrence Public Library.
Shew expects 60 percent turnout in some precincts in south and west Lawrence where contested Kansas House races will be on the ballot. But he said there's been much less political activity near the KU campus compared with the 2006 midterm elections.
However, he said that in-person advance votes for this election outpaced 2006. In-person advance voting ended at noon Monday, and 2,627 people voted. The clerk's office had mailed 4,572 advance ballots and received 2,528 of them back by late Monday afternoon.
The clerk's office offered other tips for voters:
• Voters in precinct 6 in northern Lawrence, who usually voted at The Windsor, will instead vote at Deerfield School, 101 Lawrence Ave., along with Precinct 5 voters. Shew sent letters to voters after he found out a week ago that The Windsor was unavailable.
• Check your polling place at www.douglascountyelections.com if you are unsure.
• If you still have an advance ballot, it must be turned in to the clerk's office at the Douglas County Courthouse, 1100 Mass., or placed in the drop box south of the courthouse by 7 p.m. today, Shew said.
• Shew recently certified the number of voters in each political party. The results: Democrats have 27,830 registered voters in Douglas County; Republicans have 23,202; Libertarians, 701; and the Reform Party checks in with 72. But the largest group of registered voters continues to be in the unaffiliated category, with 28,015.
Copyright 2018 The Lawrence Journal-World. All rights reserved. This material may not be published, broadcast, rewritten or redistributed. We strive to uphold our values for every story published.