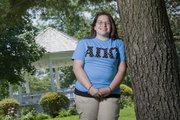 Corey LeRoy and Ariane Franklin, students at Haskell Indian Nations University, wanted a place for other female students to connect and help one another throughout college. They wanted something never seen at Haskell: a greek organization.
Though it took a year to find enough interest on campus, LeRoy, a transfer student from Indiana, was able to find enough potential members for Alpha Pi Omega, the nation's oldest Native American sorority.
"We decided we were going to do it and do it right, because one, we wanted to be sisters, and two, we wanted to have a family away from home," LeRoy, a sophomore in environmental science, says. "Indiana is 10 hours away, and I haven't been home all semester."
The five members, including LeRoy, Franklin, Taryn Anquoe, Krystal Jumping Elk and Lara O'Toole, were initiated in mid-April and are currently working on an organizational constitution. If it is approved by Alpha Pi Omega Sorority, the Haskell chapter will receive a provisional status and will have the opportunity to apply for full status in summer 2011.
"We are just trying to get our constitution written now and trying to keep our image positive on campus so that other women will want to join us," LeRoy says.
The five new members have also started another organization on campus, Haskell Women for the Betterment of All Women, for female students interested in a support group but not a full-on sorority.
Along with companionship and support, LeRoy says she hopes the sorority and the other women's organization will offer female students at Haskell an alternative to drinking and partying around Lawrence.
"We can offer people to just come and hang out with," she says. "We don't party; we try to keep away from that. It would just be a positive thing for them to be a part of."
LeRoy says the members started the organizations because outside of class and athletics, students at Haskell do not have many opportunities to organize and meet with other students.
"Our two groups are probably the only two that are trying to be the most inclusive of everyone," she says. "Now even the men on campus are trying to get a chapter of Phi Sigma Nu, a Native American fraternity."
Alpha Pi Omega sorority was established in 1994 at the University of North Carolina-Chapel Hill. The organization has nearly 400 members representing more than 70 tribes in 13 chartered university chapters in five states.
Lenzy Krehbiel-Burton, southern regional adviser for Alpha Pi Omega, says the organization should serve as a unifying presence on the Haskell campus.
"Being Native on a college campus is a different experience, especially at Haskell, with a lot of their students leaving their home or reservations for the first time, and it's hard not to go back," she says.
Krehbiel-Burton, who joined the Alpha Pi Omega at Oklahoma State University, also says she hopes the sorority can lead to more greek and other helpful organizations on the Haskell campus.
"If this goes well and don't do anything stupid and if we show that this is something that can benefit the Haskell community, we may open the door for other organizations," she says.
Copyright 2018 The Lawrence Journal-World. All rights reserved. This material may not be published, broadcast, rewritten or redistributed. We strive to uphold our values for every story published.