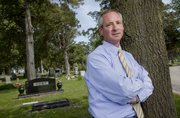 Death and its aftermath is no stranger to Bart Yost. He lived in a funeral home until he was 14.
"Caskets were displayed in the front room where my friends and I gathered," he says. "It seemed pretty normal to us."
He didn't live in a separate house until his father, Al, sold Yost Funeral Services, Wellington, and bought Rumsey's Funeral Home in Lawrence in 1978. Yost says other kids, unlike some adults he meets socially, didn't tease or ask him morbid questions about dead bodies.
When he graduated from Lawrence High School in 1982, he wasn't sure if he wanted to follow in his father's footsteps. He enrolled at Kansas University to have fun, do some general study and figure out what he wanted to do with his life. He quit KU after a year and joined his father full-time.
"I saw how much my father helped people and decided it was something I wanted to do, too, and help the community," he says.
Yost attended Kansas City Kansas Community College, received his funeral director's state license in 1993 and completes regular continuing education as required by state law. He says he learns something new every day.
He married in 1996 and became president of the company in 2006 when his father died. He says the business is truly a family one. His mother, Fleda Ann, wife, Georgette, and daughter, Taylor, are all involved and help in different ways, and he has a wonderful, caring staff.
"When dad died, they did absolutely everything except for the obituary, which I did myself," he says.
Yost says his job isn't really about death; it's about the living.
"The deceased are free from their pain and suffering and are at peace," he says. "The survivors are often in deep pain from their loss and aren't sure about what needs to be done. I see myself as a guide to help make the best decisions to meet their needs. I aim to get everything absolutely right for them and help them feel they're doing everything they need and want to do."
A tremendous amount of paperwork needs to be completed after a death, and Yost takes care of it all. He says building the on-site crematorium in 1998 has been invaluable. It means he can personally oversee everything that needs to be done for the deceased to ensure the body is treated with the utmost dignity, whether the family chooses burial or cremation.
Yost says he has a strong personal faith and doesn't fear death, but children's deaths get to him and make him more protective of his daughter as his father was with him.
"Dad wouldn't let me ride motorcycles because he'd dealt with the aftermath of too many motorcycle fatalities," he says.
Yost doesn't fear for himself. He now owns a Harley-Davidson and says riding it helps him relax and relieve stress.
"I love riding out to Clinton Lake at sunrise to immerse myself in nature," he says. "It helps me fully appreciate the gift and beauty of life."
Copyright 2018 The Lawrence Journal-World. All rights reserved. This material may not be published, broadcast, rewritten or redistributed. We strive to uphold our values for every story published.